Catchy images of departing ships - 18/02/20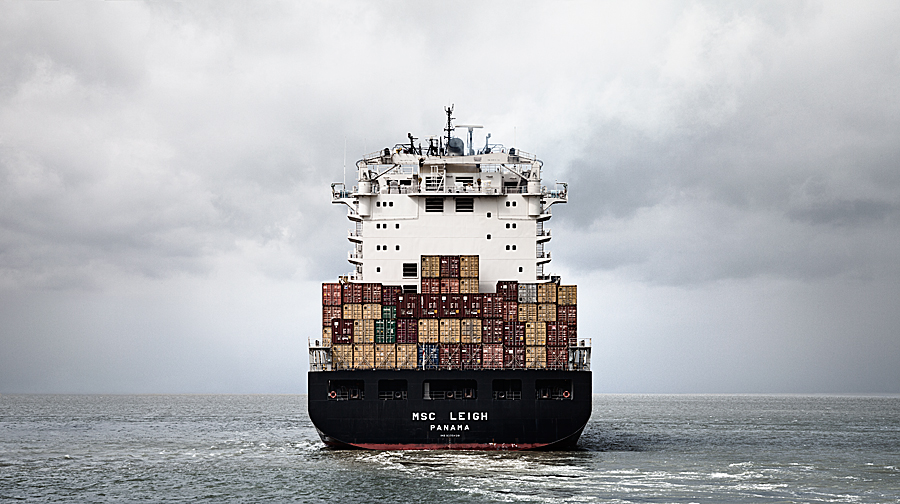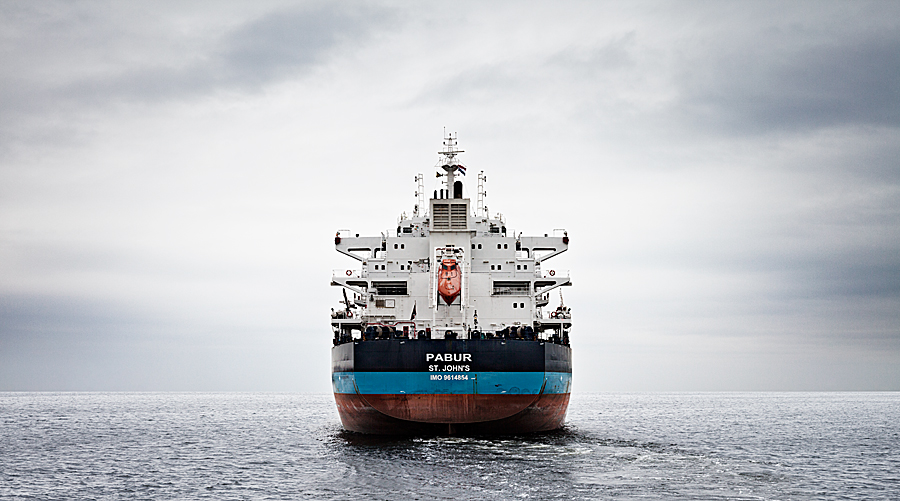 © raymond waltjen
Photographer
Raymond Waltjen
has made catchy and interesting images of departing ships with his serie of photos called
'Destination'
. The image of the ship in combination with the sky and the concept of the series, the ships that sail into the open sea, makes this definitely worth viewing. That is why we are happy to share this with you.
Nice development in greenhouse construction: Smart use of solar energy with lenses in the roof - 02/12/19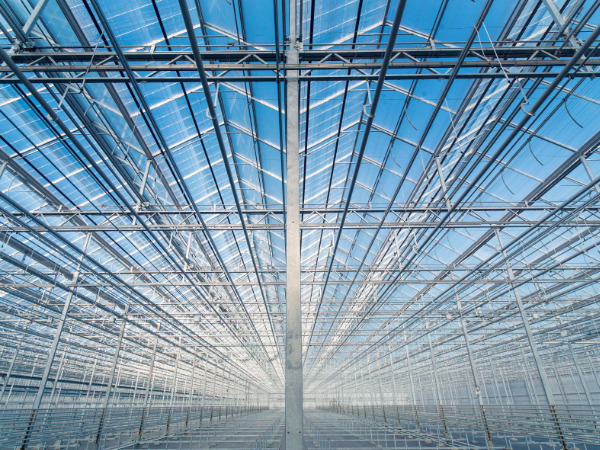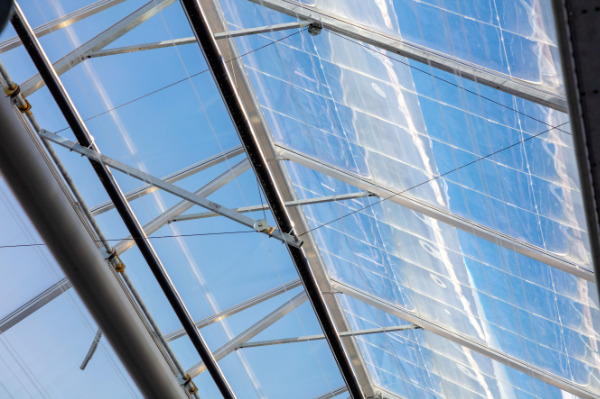 © photos Technokas B.V.
The Greenhouse horticulture in the Westland is world famous. The typical greenhouses form a well-known image. But there are interesting ongoing developments around these familiair and similarly looking greenhouses for years. Now that the energy issues are becoming increasingly important, there is the possibility of great innovations around the use of solar energy for these greenhouses. Which is nice, since the greenhouse is essentially made to handle and use sunlight this smartly. The company
Technokas
> developed
a interesting concept
which we would like to share here. By means of fresnel lenses in the glass roof, they managed to concentrate sunlight in thin focal lines that end up directly on black tubes through which water runs. This heats up and therefor is able to store the energy. A smart and integrated system that makes the first energy 0 greenhouse in the Netherlands possible.
Preview semi-detached house in Lent - 31/10/19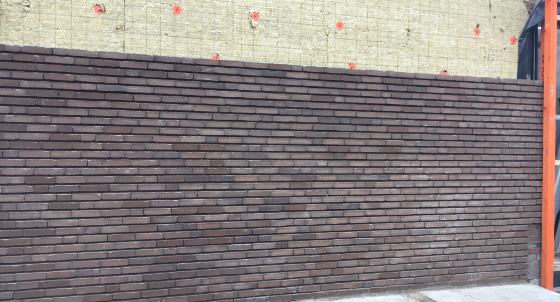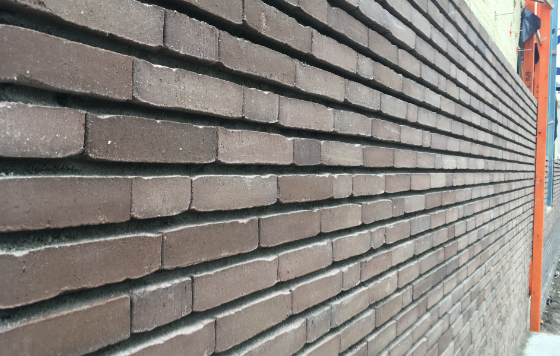 Last week we chaired a construction meeting of a project that is currently being build; a characteristic semi-detached house in Lent. The contractor has recently started bricklaying the façade whereby the bricks are laid against each other without a vertical joint. In addition, the stone is slightly lower high than normal, creating beautiful horizontal lines in the facade. The photos show this well, although the façade still needs to be finished with a light joint. The completion is planned early next year, more photos will follow.
Photographs of serene extension '30s house on website - 08/07/19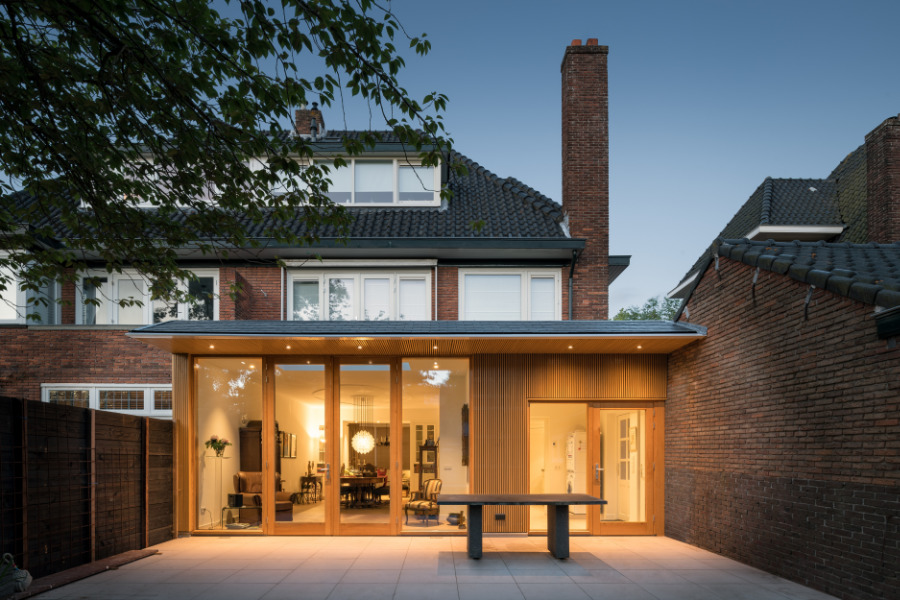 © photographer studio de nooyer
The built of the project (which we talked about on our website before) is finished. You can find
a project page full of information and images here (link)
.
Sneak peek contemporary brick extension to a typical 30s home- 15/05/19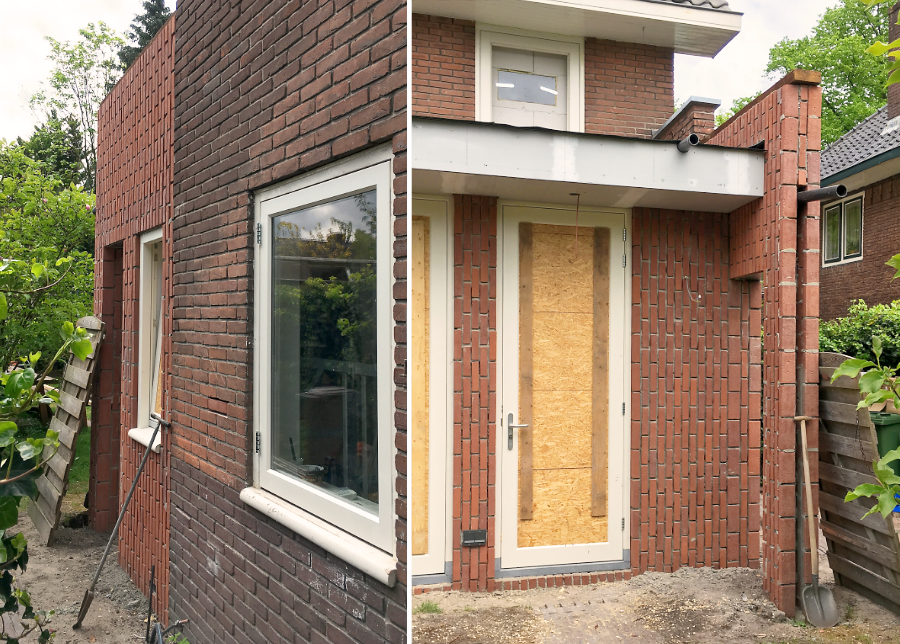 In Hilversum we are currently working with clients and contractor Frank van Echteld to realize a special extension as part of the total renovation. We give you a sneak peek of the design in which we wanted to translate the power of the 30s brick architecture in a contemporary way into the extension.
3D art by Tom Deininger amazes - 19/03/19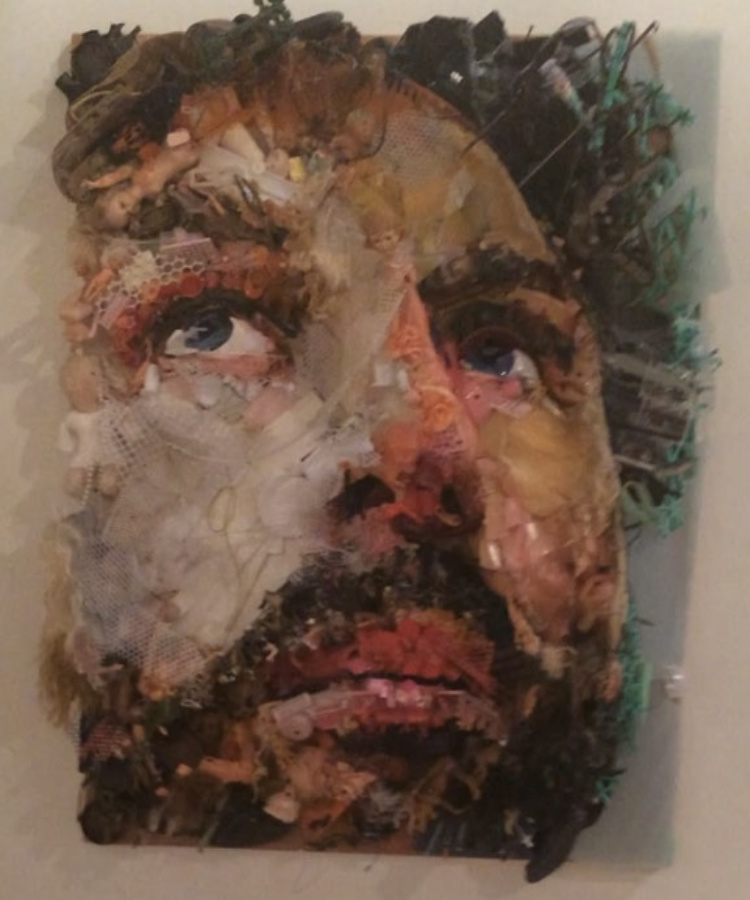 © Tom Deininger
Tom Deininger is an artist who has been creating something new from small, often found, things. His 3D art amazes zoomed in and zoomed out. By starting zoomed in and slowly zooming out, you see (click on image above to go to the video) the reverse of what you would see at an exhibition. The craftsmanship and creativity surprise us and we are happy to share this. You can find more by and about
Tom Deininger here (link)
.
Preview sightly and particular small industry units - 20/02/19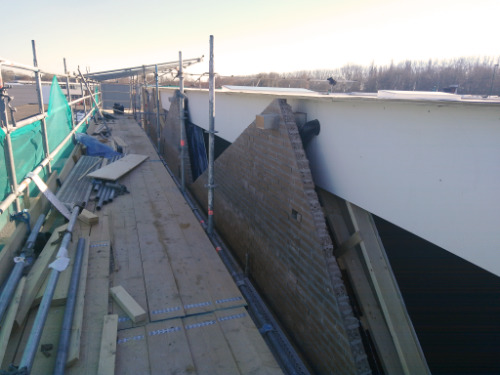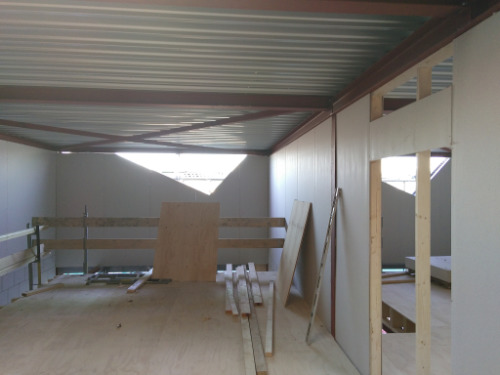 Every now and then we like to share some photos of projects that are in the construction phase, same here. For the enthusiastic clients, we were allowed to make a design for four business units in which the building as a whole and each unit individually have a high quality and finishing level. In a few weeks the completion is planned, and when we have beautiful pictures, more will follow.
Photographs of new project (extension and internal overhaul GP practice) online- 13/12/18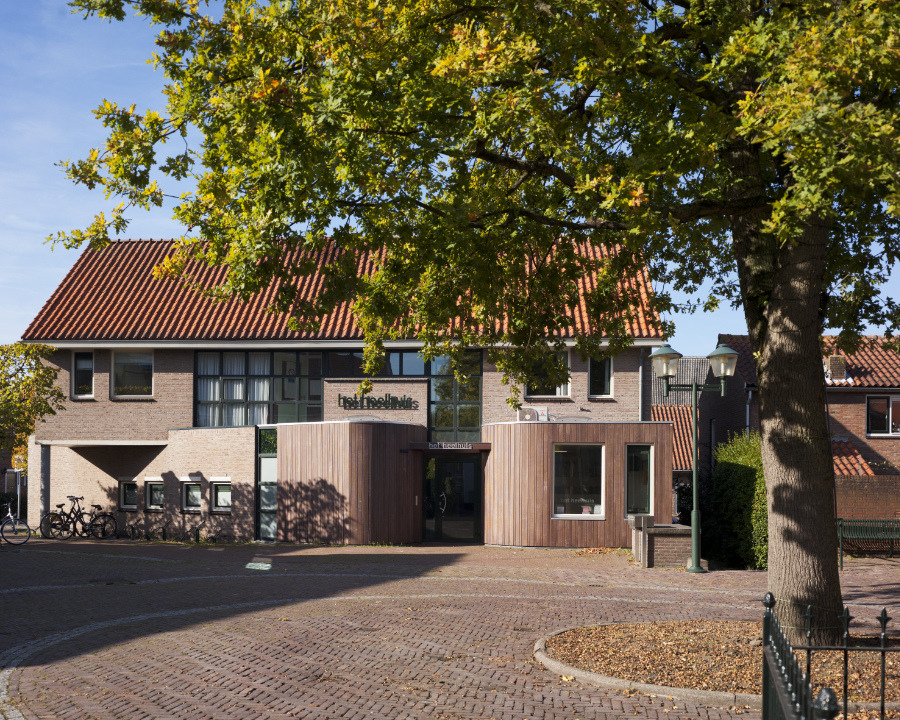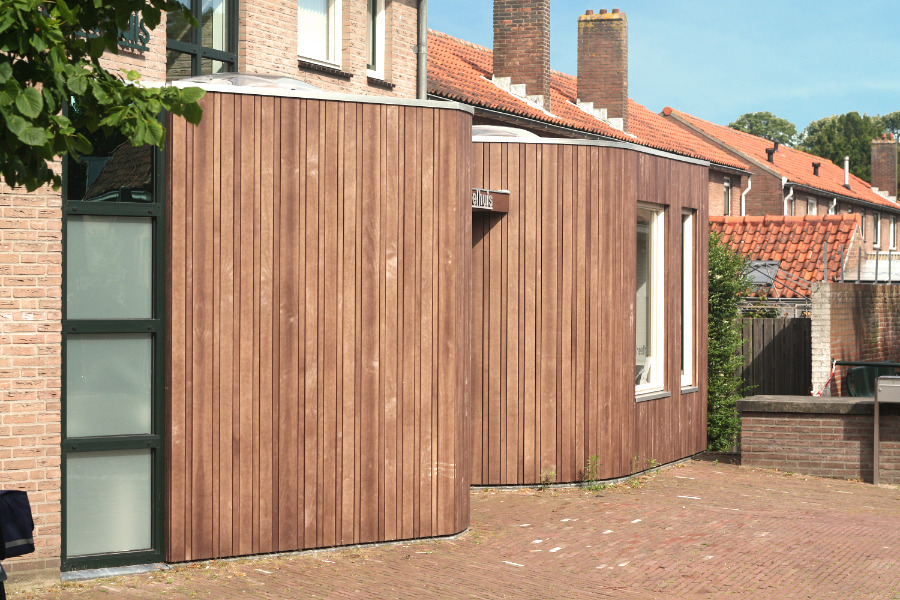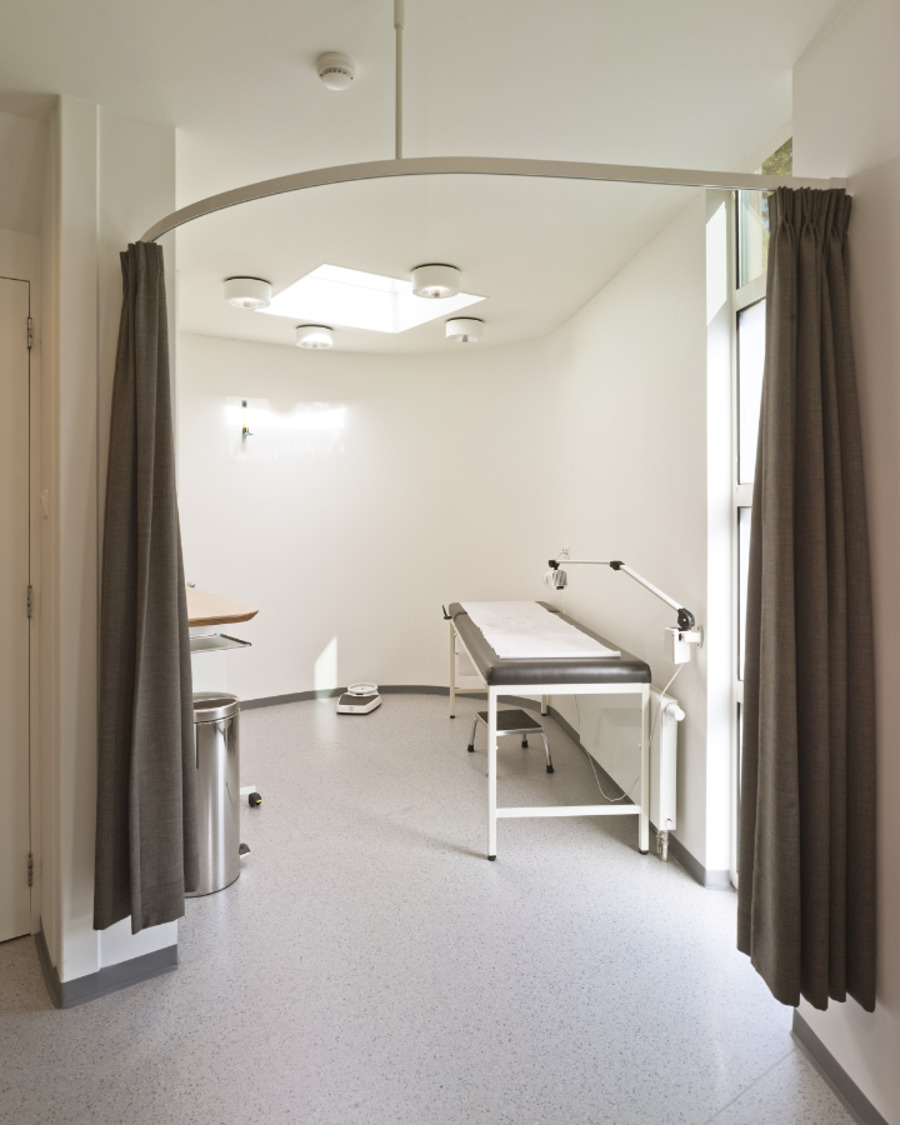 © photography Ruben Dario Kleimeer
The GPs, who hold a practice in Maasland, were looking for extra space and a thorough approach to a new layout of the practice rooms. For this practice we came to an expansion that seems to fit effortlessly with the existing, typical building. The interior has been completely renovated, with almost all rooms on the ground floor changing function, position and size. More pictures and information about this project can be found on our website on
this project page on our website (please click here)
.
Enchanting art (in the streets)- 19/10/18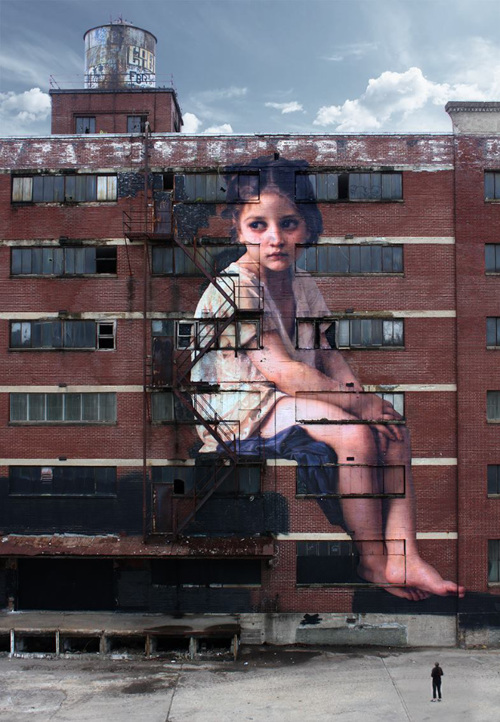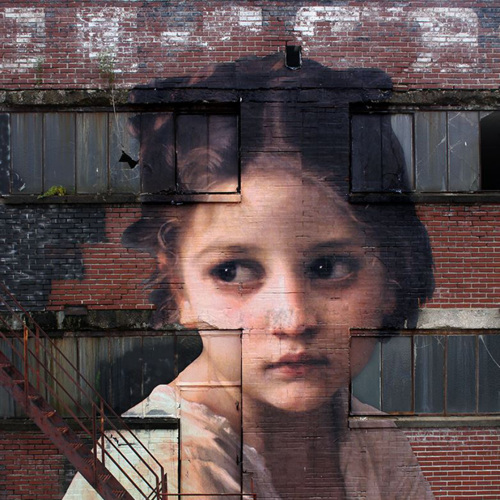 © photo's and work Outings in Memphis - Julien de Casabianca
Julien de Casabianca
uses his
Outings project (link to instagram)
to take art to the streets, literally. It results in fabulous situations where the brain is tested by the almost unreal combination in scale between 'museum art' and a building. Truly special. Make sure to visit
his website
for more work.
ARCHITECTURE, CONTEXT, A FASCINATING IMAGE, BY BAS PRINCEN - 17/09/18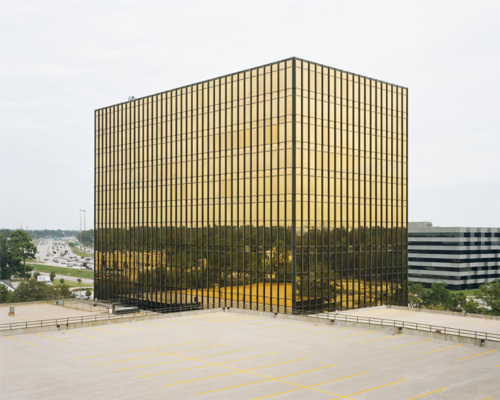 © photo Bas Princen
This photo, entitled 'ringroad (houston)', is fascinating. The image in itself, by the composition and the colors. But also, what happens to the architecture and its context, the merging of the, at that moment 'glowing', building with the surroundings.
Bas Princen
gives an architectural object (even more) meaning through his photography. And with this photo, even without explaining or adding anything, an appealing and inspiring image has been created.
Quote P.J.H Cuypers (Madrid 1904) - 10/08/18
'Professors in architecture have proclaimed the idea that in the future the "Engineer" will design the construction and indicate the main idea, and that the artistic part will be left to the "Architect". We do not understand, however, that a professor can proclaim such ideas. The architect, if he wants to be worth that name, must be the designer (maker) of his whole work. (...)
Besides, how could one come to unity and harmony, which are so necessary for the creation of a work of art, if the construction of a structure was work of brains other then, of an Engineer, of him who called that structure into life. Such a creation will never be able to have style, and never will it be a work of art, on the other hand only an accumulation of things borrowed from others and of combinations that can not possibly have artistic value. '
Dutch architect P.J.H. Cuypers on construction and architecture at the sixth international congress of architects in Madrid. In our view, a constructor may/should calculate what the architect designs, but the architect must (co-)design the structure. This quote is still relevant.
De Kunsthalle Bremen, A recommendation FOR AN AFTERNOON full of INSPIRATION IN AN ORIGINAL SETTING - 30/06/18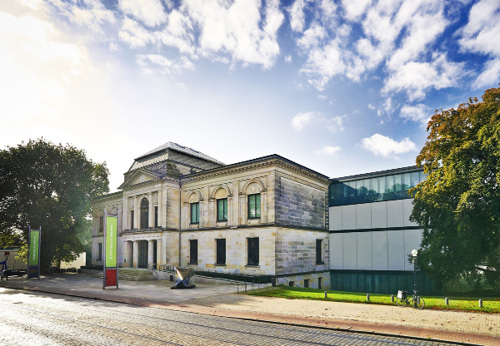 © photo Michael Gielen
Bremen is a (formerly very rich trading) city that is easy to drive to from the Netherlands. In addition to various beautiful areas in the city, the
Kunsthalle Bremen
is a good place for inspiration and culture. In addition to a permanent collection, there is a nice area in the museum for changing work. That part is the 'kunsthal-like' at this Kunsthalle, because unlike Rotterdam for example, this museum has a large permanent collection. Last fall we visited and were inspired by an interesting temporary exhibition about the work of Max Beckmann, and we saw a permanent arrangement by James Turrell, the light artist we wrote about earlier.
Finally, the building itself has been extended in a clean and original way and is in a very nice location. Worth a visit we would say.
THE Unconditional basic income (Part 2, next to OUR first PIECE IN 2015) - 18/04/18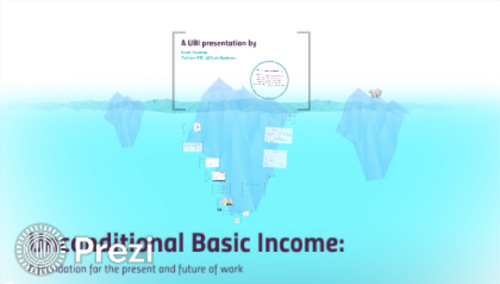 © Scott Santens
It seems to become important to think differently about the concepts of work and income in the upcoming years. In order to guarantee a well-being for everyone in society, the traditional model (you work and get rewarded and otherwise are supported in some way) is probably not going to be sufficient in the future. Of course, we didn't just make this up, there are many economists writing about this and many governments thinking and working on this.
Trends that are perceptible in large parts of the world are named as evidence for the predictions. For example, the increase in robotization, the shortage of (professional and trained) people in the (less well paying) jobs (how do you get the right people to do those jobs?), The costs of the people who do not get to work now, governments which can not keep up with the necessity of grants and social assistance benefits, growing inequality with a truly poor part of the population, etcetera.
As mentioned, in 2015 (see below this article in our blog) we wrote about a different way of thinking, the unconditional basic income. Not to promote this, but to play with the thought: Could this be something?
And now, a few years later, we want to show you, since there is a large number of countries thinking about or experimenting with the possible introduction, more about the idea of a unconditional basic income via a
presentation
by
Scott Santens
. He has been actively trying to promote the basic income for years, but in our opinion he explains what the content and context is about and where the opportunities lie. Enrich yourself with this knowledge.
derksen|windt architecten increasing posting on instagram - 22/03/18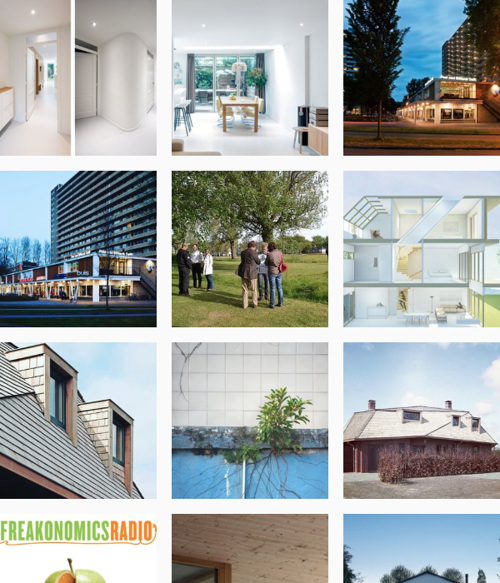 derksen | windt architects, after a longer period of passively usage of instagram, shares more updates and posts
via instagram
now.
Follow
us
there
as well.
tip: Podcast about interesting, original, sometimes peculiar questions about our society - 31/01/18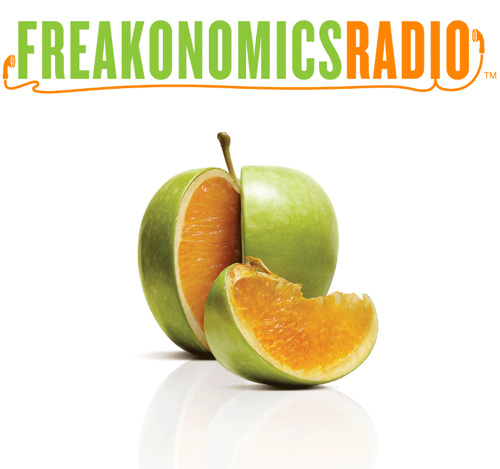 © Freakonomics
Economist Stephen J. Dubner is the host in
the conversations
he conducts with various guests on very diverse issues. In 2005 he, together with with Steve Levitt, co-wrote a book, named
Freakonomics
, which became a bestseller. In this book they asked all sorts of questions for which they come up with clarifying insights and answers. The podcast (for those who do not know, this is a recorded conversation that can be downloaded / listened to) does the same thing. Every time there is a different theme or question for which, and this makes it so interesting, they come up with original answers and insights.
This episode (click here)
is a good example. It is about the influence of 'trust in each other' on 'prosperity and economics'. Very interesting to see what the connections are. And, like all episodes, the conversation runs well. Therefore it is recommended to follow this podcast.
CO2 neutral - 23/10/17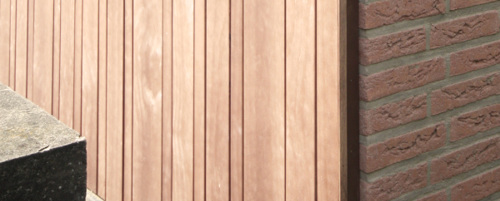 The term 'energy-neutral' is well known. The demand from the Dutch government that all buildings built from 2021 have to be 'Bijna Energie Neutrale Gebouwen' (Nearly Energy Neutral Buildings) BENG may also be known. But these somewhat vague terms actually arise from the problem of excessive carbon dioxide emissions. Building and heating buildings is a major cause of the increase of greenhouse gases (especially CO2) in the atmosphere.
An important task for the near future is to reduce the use of non-renewable energy to 0. A subsequent step is that we also think about material choices and methods of construction. There is still a lot of research needed because there are many factors that affect the (proper) material choices (for example, edibility, lifespan, reusability, energy necessary to produce), but it's an interesting aspect to think about, as a building industrie in general, and more specific as architects.
#extension #crane #justfits #professionsals #takeitovertheroof #contractorMesons- 01/12/17
CO2 neutral - 23/10/17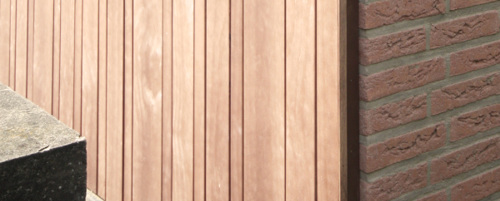 The term 'energy-neutral' is well known. The demand from the Dutch government that all buildings built from 2021 have to be 'Bijna Energie Neutrale Gebouwen' (Nearly Energy Neutral Buildings) BENG may also be known. But these somewhat vague terms actually arise from the problem of excessive carbon dioxide emissions. Building and heating buildings is a major cause of the increase of greenhouse gases (especially CO2) in the atmosphere.
An important task for the near future is to reduce the use of non-renewable energy to 0. A subsequent step is that we also think about material choices and methods of construction. There is still a lot of research needed because there are many factors that affect the (proper) material choices (for example, edibility, lifespan, reusability, energy necessary to produce), but it's an interesting aspect to think about, as a building industrie in general, and more specific as architects.
THE HISTORICAL layers OF CURRENT ROTTERDAM BUILDINGS ON a MAP - 14/09/17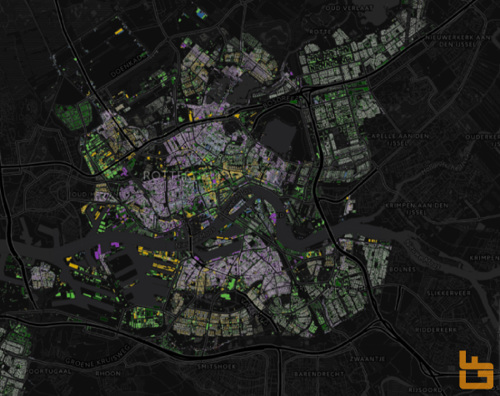 © de Geofabriek
De Geofabriek (link)
performs geo-analyzes, creating beautiful maps of geographical data and results. This is also the card shown above as a printscreen which can be seen
here (link)
digitally. The buildings which are still existing in Rotterdam are all marked in a color that corresponds to the building year of these buildings. This makes it very interesting to see how blocks of buildings, and entire districts, have evolved, with the second world war bombing of course as a visible event. In our eyes, the map is a nice graphical representation of otherwise hard data, and therefore worth the effort to scroll and zoom through.
Beautiful artwork on existing building in Zagreb - 11/09/17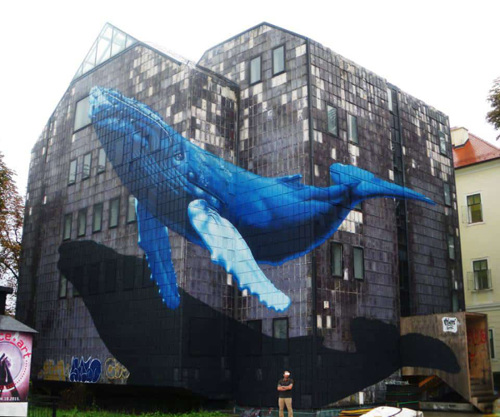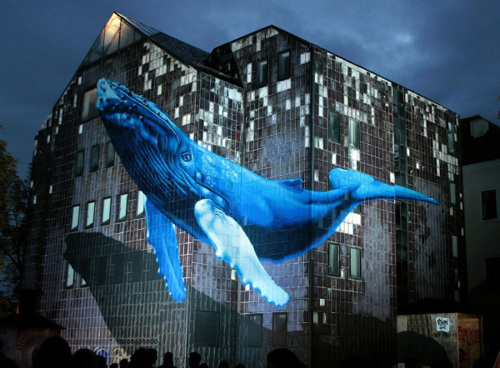 © photos Étien'
Étien' is a French artist who produces very diverse works. In Zagreb, on invitation, he made this huge painting on an existing building. What makes it extra special is that tghis artwork is painted in a way that it only appears completely and in the right proportions from one angle. Since the whale is painted on striking buildingparts. You can find more
information and interesting work on his website
. Enjoy these day and evening images.
Realising dwellings in the innercity ON TOP of existing buildings - 06/06/17
© photo Ossip van Duivenbode © project Ibelings van Tilburg architecten
What can one do when there is a need for new houses in the inner city, but there is little space for these new plans? And what to do if the particular city (Rotterdam) knows it has to cope with its existing buildings with great respect and compassion? The BNA has done research, initiated by architect Marc Ibelings, on these questions in a research titled
'licht verdicht'
. The results are described and is written about in
this book
.
Marc Ibelings started this research because his architecture firm was able to realise a very nice multiple floored addition on top of an existing building by building very clever and light weight (see illustration). This plan has kept an important layer of the history of the city intact and was able to add new houses to the city.
In our opinion, this is a good way to realize and maintain architecture and to add quality to an inner city.
A '0 on the meter' building - 15/02/17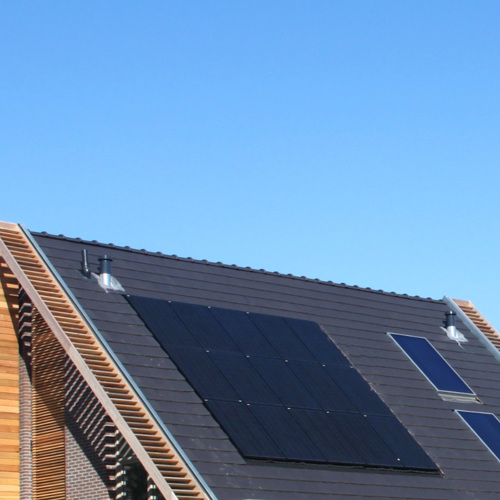 '0 on the meter house' is a Dutch term being used more and more frequently. Up until a couple of years ago the building industry mainly spoke of the EPC (Energy Performance Coefficient), which revolves around the energy used for electricity, heating and light. However, it is more relevant to look at the total usage of a building. So, that, for example for a family home, the household (charging, water cooking, washing, etc.) is included. And what about the additional energy demand for schools. From our perspective, it is very useful and good to look at the total energy consumption. Therefore, since the start of our office, we follow the developments closely, go to conferences, and we try to contribute to the pursuit of energy-neutral buildings. Sometimes it succeeds, sometimes it does not, but it is important and good for an architect to discuss the concept and the possibilities with our clients. For more information, you can very well visit the website of '
De Stroomversnelling
' (in Dutch) or
this research
(again in Dutch) done by the Dutch government.
Auburn University's Rural Studio realizes ambitious and social architecture with minimal means - 24/01/17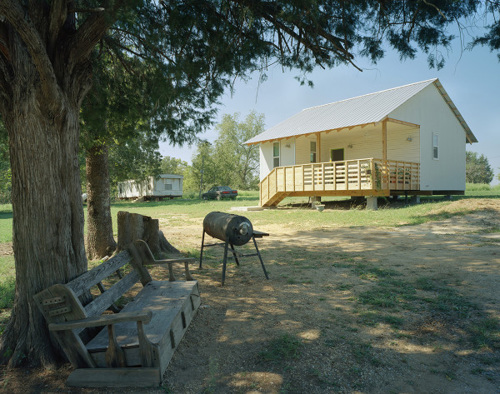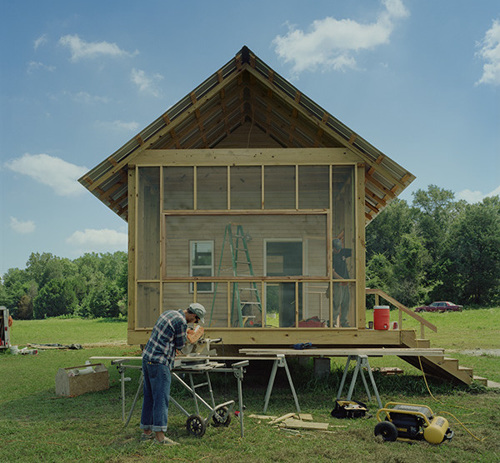 © Timothy Hursley
In 1993 D.K. Ruth and Samuel Mockbee started a
studio
linked to the Auburn University in America. The aim of
Rural Studio
was to give the students a more hands-on education. In its initial years the studio became known for recycling and reuse, in the past 15 years the focus shifted more and more towards social and community oriented work.
This, of course, is inspiring, but most inspiring is that the studio focusses on making sure that the rich and the poor people, people in need, can profit from great design. Something we fully support. The pictures shown here are taken from houses designed in the 20K house series. This is, as the name suggests, a project that aims to build houses for 20.000 dollars, done with the future inhabitants.
You can find more here
.
Imaginative, artistic worlds created in a studio - 30/11/16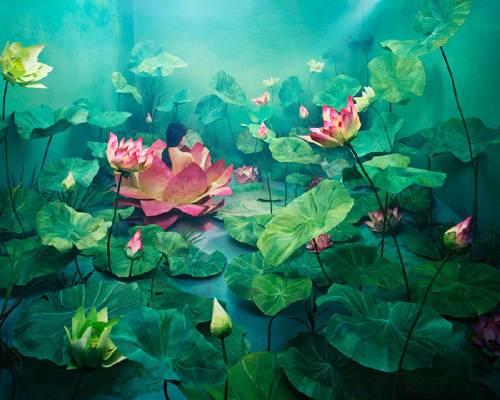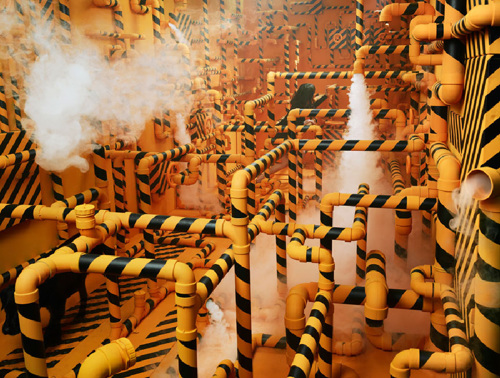 © JeeYoung Lee, by courtesy of Opiom Gallery
The artist
JeeYoung Lee
manages to bring worlds to life by building and creating arrangements, which sometimes takes her months. All is done in her studio where the created landscapes are photographed. It should leave us spectators in doubt, in an inspiring and eloquent way, about what is reality.
In addition, these are self-portraits. In the middle of the fantasy world, JeeYoung Lee herself is part of the proposed. The beauty is that there is an opportunity that your mind drifts to these new universes each image at the time.
Here (click for link)
you can see more amazing performances.
models - 15/09/16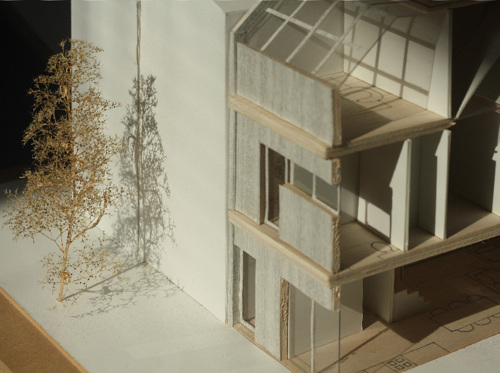 In practically all tasks that we may do, we use 'real' models as an aid to design and in the end to present to our clients. Firstly, these models give us a lot of insight into the several design options and how these interventions work in 3D. Secondly they clearly visualizes our ideas to the clients. The models are often well received by our clients, so most of them don't end up in our office, but in our clients home or office. But that certainly does not stop us making good, instructive and beautiful models. These two photos are a sample of our models.
Expansion and renovation Amsterdam: Photos and information online - 07/07/16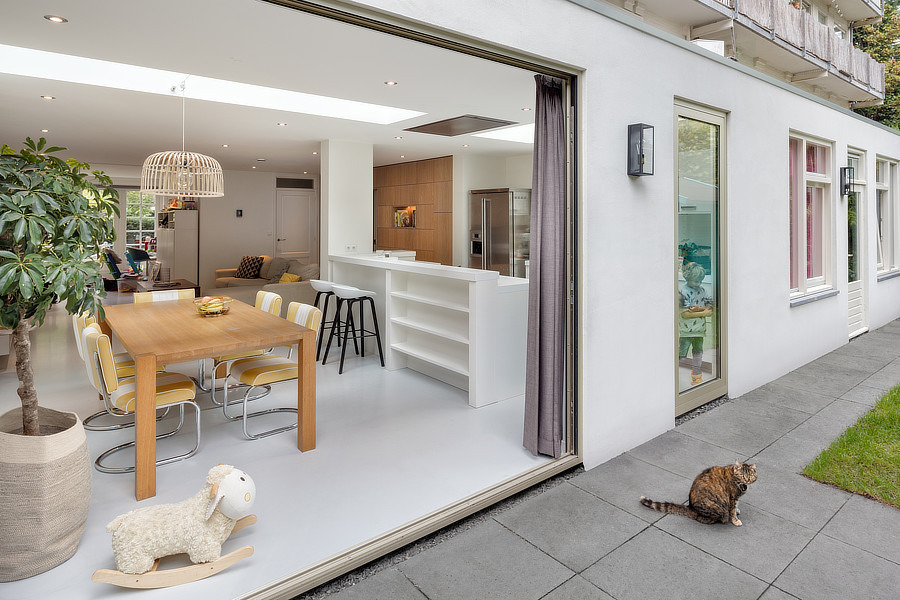 © Photographs Studio de Nooyer
Our clients in Amsterdam gave us the opportunity to make a design for their home, do the elaboration and guide the project until completion. They live in a beautiful and popular antebellum residential block with a large courtyard garden, which is divided in private backyards. This spacious backyard provided the ideal opportunity to transform the already beautiful dwelling into a contemporary family house. We created a large entrance, many bedrooms, a large bathroom, and a beautiful, light-flooded, kitchen. More about this on
the project page (click here)
.
'City of Light' - Documentary about the 'forgotten' pre-war Bijenkorf warehouse of Dudok in Rotterdam - 25/05/16
© Peter Veenendaal
Willem Marinus Dudok is one of the most famous and influential architects in the Netherlands of the twentieth century. His fame and influence reached far beyond the Dutch borders and was praised in Japan and America. You probalbly know some of his most famous buildings
(the town hall of Hilversum for example)
.
Less well known is that the original Bijenkorf warehouse building in Rotterdam, which was built before World War II, was designed by Dudok. About this razed and forgotten building,
Peter Veenendaal (klik voor link naar zijn site)
journalist and architecture fancier, created an imaginative documentary.
The design of the Bijenkorf Rotterdam appeals to the imagination and compared to the contemporary warehouses it is very different. The design was light and spacious, it must have been a delight to wander around there. Enjoy this well-crafted, compelling and inspiring short documentary about this fantastic building.
A lot of news around the bicycle storage Leidseplein Amsterdam - 08/04/16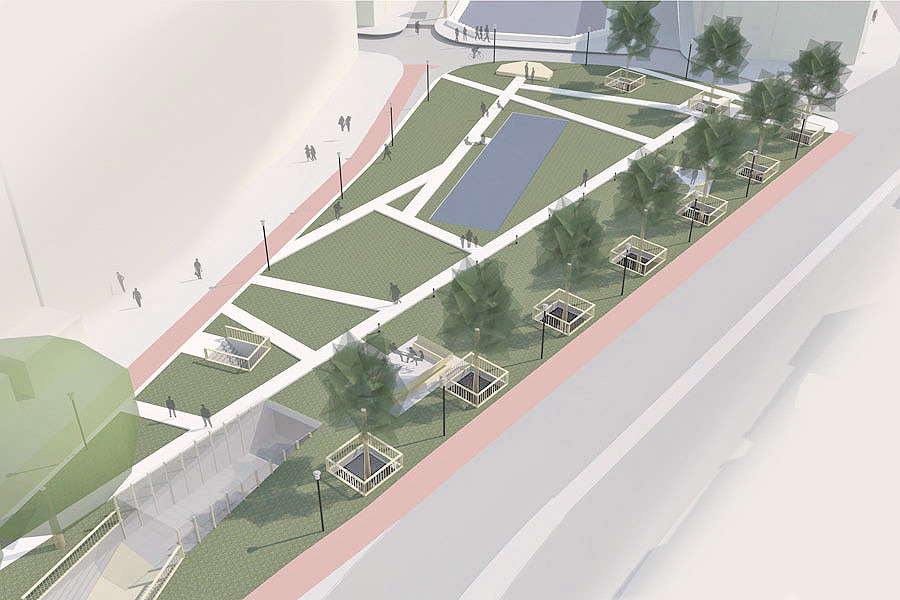 Commissioned by the Amsterdam city council a few years back, we have made a design and feasibility study 'underground bicycle storage Klein-Gartmanplantsoen' and presented it. This task concerned the bike parking issue around the Leidseplein, and with the aim of finding a good solution for a part of this problem. We have taken this task broader, so we involved the public space in the design and made an integrated plan for the whole area.
After years of wrangling which was the best design option for the bicycle cellar, we came up with our design option. A design with capacity for 2000 bicycles and in our eyes the best solution to the problem and the feasibility. Our plan was received well and we could make the final draft. Unfortunately, the city council of Amsterdam decided to contract another design agency, with more experience in the field of bike parking cellars, for the elaboration of the project. We can say this without rancor, this is how it works sometimes. We are proud of the results of our study commissioned by the municipality of Amsterdam.
Recently the project has been much in the media. So we thought it would be interesting to inform you with the above. Regrettably, our fine design for the public space on top of the bicycle cellar, Klein-Gartmanplantsoen, is not included.
Here (click)
you can find more on the municipality website. And
here (click)
you can find more about our design on the projects page,
Did you know some of our projects are on Pinterest? - 02/22/16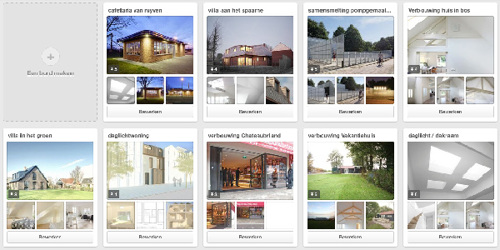 Beside the several social media platforms where we can be found and share our news, now there are also some of our projects on
pinterest
. You can find our page
here (link)
.
Inspiring visit to the Ruhr - 11/01/16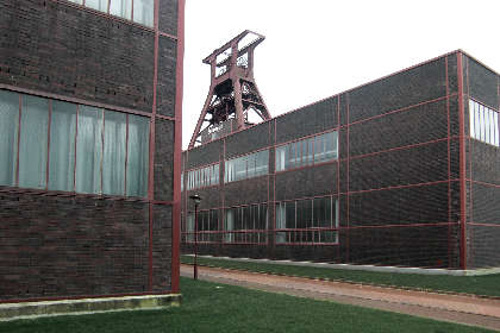 To start 2016 inspiring, we recently visited the Ruhr. Something that has been on our list for a long time. During the industrial revolution the Ruhr grew into one of the largest industrial areas of Europe. Although a lot of industrial activity is still there, due to the coal and steel crisis the industry in the Ruhr has reduced strongly. For example, in 1986 the coal mine in Essen locks. Just as in the Netherlands (For example Limburg), this sort of shrinkage has consequences: a lot of vacant factories, offices and industrial sites. This resulted in a demand for new spatial developments.
In 2001 the factory complex Zeche Zollverein in Essen came on the UNESCO World Heritage List and in 2010 the Ruhr became the cultural capital of Europe, resulting in many good and most creative spatial developments. In and around this factory complex, a number of famous architects (SANAA and OMA) contributed. The old factory is preserved and open for visitors. A very inspiring and impressive environment, which is certainly worth a visit.
Quote from "Game of the Angel" by Carlos Ruiz Zafon - 20/11/15
'Literature, the good kind, is a science that carries the blood of art. Like architecture or music.'
This quote from the book Game of the Angel (2008) by Carlos Ruiz Zafon, is a quote which sticks with us. And now we are developing our architecture studio since 2008, it shows that the balance between science and art is very important to us. On the one hand architecture is producing and performing renovations, extensions, buildings and public spaces. But on the other hand, when it is possible and the contract allows us, architecture is more than that. It is also a creative process, which does not follow a certain path, like much other professions. That is exactly what makes architecture and design interesting. There are tasks that require drafts with innovation and inventiveness in it. But other task, which require more research, sketches and spatial studies, ask for more in order to find the best solutions. We experience this balance as a very interesting tension.
Our design for an 4 meter expansion and renovation of a house in Amsterdam - 10/02/15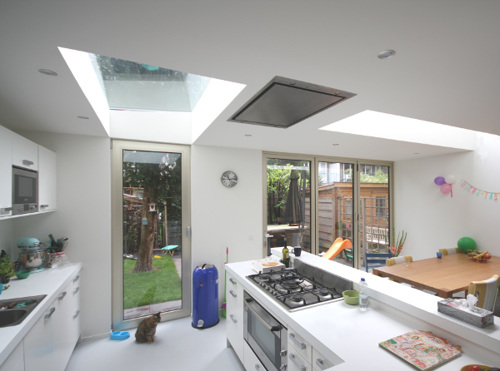 For our clients in Amsterdam we had the chance to make a design for their house, to do the elaboration and guide the project until completion. They live in a beautiful and popular antebellum residential block with a large courtyard garden, which is divided in private backyards. This spacious backyard provided the ideal opportunity to transform the already beautiful dwelling into a contemporary family house.
Together with our clients we came to a program of requirements and wishes: many bedrooms, a large bathroom, a spacious an light-flooded kitchen and a proper entrance. In our opinion these wishes did come back really well in the design. Everything is optimized to a nail. The construction work has been completed, the next few months they will do the finishing touch with the furniture. Upcoming spring we expect to show you some more pictures. For now this photo, for more information you can contact us of course. Because in our point of view, the homes that have a good backyard, will be enriched with this kind of adjustments.
'Transparent windows' as solar panels? - 08/20/15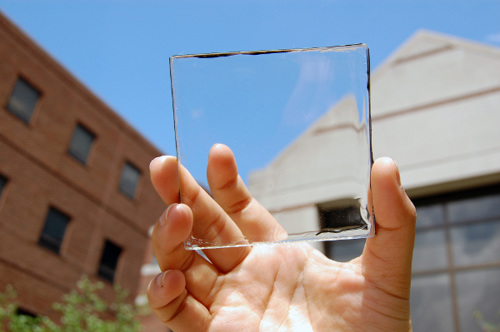 © Yimu Zhao
A team of researchers at Michigan State University in America has developed a transparent solar panel that creates solar energy, without blocking the view through the window. Read
the article here (click)
. The researchers emphasizes that the solar panel still in development is in order to reach higher efficiency, but this is definitely a step in the direction of a big breakthrough for our built environment. Imagine that your glass can be replaced with glass that generates energy! It will be hard to operate more locally or efficient than this.
A sustainable phone? Fairphone launches their second generation - 23/06/15
© Fairphone
Het Nederlandse initiatief
Fairphone
bracht twee jaar terug een telefoon via crowdfunding op de markt. Een eerlijke telefoon was het streven, een telefoon gemaakt door mensen in humane omstandigheden en gemaakt met eerlijk gewonnen materialen. Wij hebben deze telefoons destijds besteld om het project te steunen en gebruiken deze naar wens. Nu komt er een tweede variant, die, meer dan de eerste, nastreeft echt in onderdelen vervangen te kunnen worden waarmee er een langer leven bestaat voor de telefoon en de materialen. Daarnaast blijven de initiatiefnemers hun duurzame uitgangswaarden natstreven. Een heel mooi initiatief in onze ogen.
Demolition of the railroad track; public space part of the city again - 16/05/15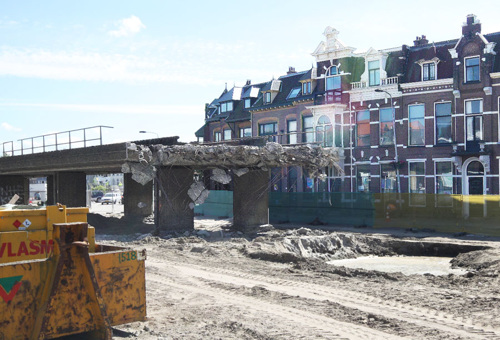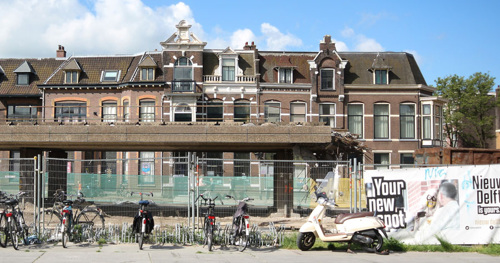 In veel Nederlandse steden ligt het spoor als een fysieke en visuele barrière in de stad. In 1960 hebben ze in Delft deze barrière willen verminderen door het spoor te verhogen van het straatniveau naar een vier meter hoog viaduct. Dit leverde een bijzonder beeld op voor zowel de inwoners van Delft als de treinreiziger, het positieve effect op de openbare ruimte rond en onder het viaduct was echter klein.
In toekomstvisie van de NS uit 1988 werd de wens om het spoor uit te breiden duidelijk. Deze behoefte, samen met de ontwikkelingen van het stationsgebied en een nieuw stadskantoor resulteerde in een 2,3 kilometer lange ondergrondse spoortunnel waarvan de bouw enkele jaren geleden begon.
Inmiddels is het nieuwe spoor en station in gebruik en wordt de oude spoorlijn afgebroken. Er is veel te zeggen over de financiële kant van het plan, het meest interessante is toch het effect van de ingreep op de openbare ruimte. Het viaduct maakt plaats voor water en groen en de panden die rondom het spoor liggen, veel uit de jaren 30, krijgen weer hun uitzicht en oorspronkelijke allure terug.Het beeld van het oude half gesloopte viaduct fascineert ons, ook omdat veel meer steden baat hebben bij een dergelijke ingreep.
Our design to revive a post-war school is in exhibition ABC - 25/03/15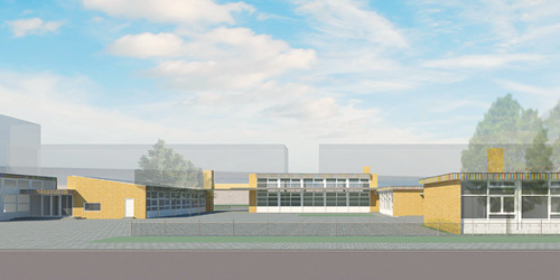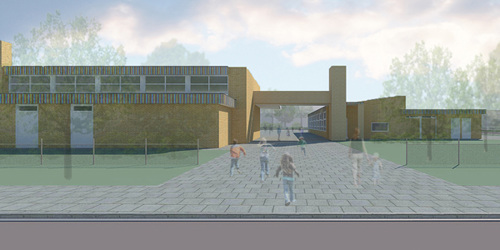 Stichting Mevrouw Meijer is een ideëel onderzoeksbureau dat verbetering van de schoolarchitectuur nastreeft. Zij zoeken samen met architecten, in dit geval met ons, naar mogelijkheden voor (naoorlogse) schoolgebouwen. Een school hoort geen wegwerpgebouw te zijn, vindt
Mevrouw Meijer
. De bestaande scholen bieden ook vaak veel meer mogelijkheden dan men denkt. Nu is de ideale tijd om gemeenten, directies, besturen en alle betrokkenen te laten zien wat er allemaal op het gebied van de architectuur mogelijk is met de BESTAANDE school.
Wij hebben een voor ons gebruikelijke onderzoekende houding aangenomen en hebben gekeken naar lesmethodieken, schooltypen, leerbehoeften en scholen architectuur. We raakten gefascineerd door flexibel gebruik van de school, de + ruimte (zoals Herberger deze noemde in de jaren 60).
Ons concept is een ontwerp te maken waarmee de school flexibel onderwijs kan geven. Gepast en zoveel mogelijk specifiek per leerling. Architectuur vanuit de leerling en lesmogelijkheden, dienend maar ook zeker een toevoeging die de school van nieuw elan voorziet. We creëren een situatie waar in eerste instantie het huidige onderwijs precies zal passen, maar waarbij de school zich kan onderscheiden met de mogelijkheden voor en naar de toekomst.
Volgende week vrijdag opent de tentoonstelling in
het ABC architectuur centrum te Haarlem
. Van 27 maart tot 21 juni is onder andere ons plan hier te zien.
From 2014 to 2015: Realising beautiful projects - 01/05/15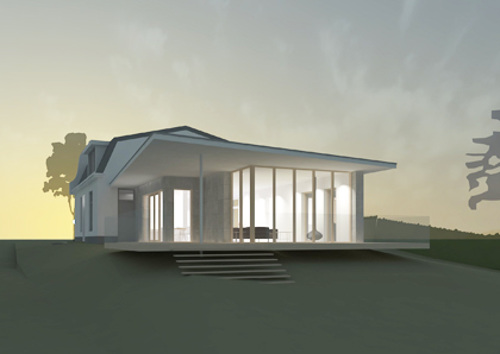 Allereerst willen wij u al het beste wensen voor het nieuwe jaar. Dat het een jaar mag zijn met veel creativiteit en energie! Terugkijkend op 2014 kunnen we zeggen dat het een jaar is geweest waarin we veel projecten hebben mogen starten en we hopen dan ook deze trend door te zetten in 2015.
Afgelopen jaar zijn we begonnen met zeer diverse opgaven. Van een ingrijpende verbouwing van een woonboerderij tot een ontwerpend onderzoek hoe een oude school een nieuwe bestemming kan krijgen. En van een herbestemming van een historisch gemaal tot een bijzondere verbouwing en aanbouw aan een woonhuis in de Zilk (zie afbeelding).
Het zijn allemaal projecten waaraan we met veel plezier hebben gewerkt en blijven werken. Omdat deze projecten gestart zijn in 2014 verwachten we in 2015 een deel hier van gerealiseerd te zien. De projecten pagina zal dus binnenkort aangevuld worden met een aantal mooie projecten!
New EPC requirements for new build by January 1st (houses EPC: 0,4) - 15/12/14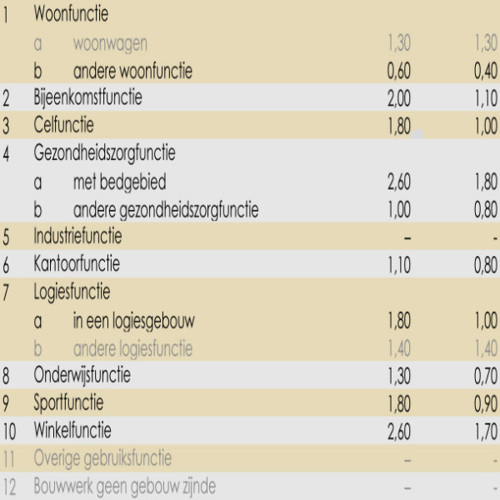 De Energie Prestatie Coëfficiënt EPC geeft de eisen weer waar gebouwen aan moeten voldoen qua (zoals de naam doet vermoeden) energie prestatie. Hier wordt verbruik van het gebouw afgewogen tegen wat het gebouw zelf op kan wekken. Die eis wordt voor vele functies aangescherpt. Als voorbeeld willen we de woningbouw nemen, de eis gaat hier van 0,6 naar 0,4 met in het achterhoofd dat de volgende stap in 2020 naar 0,0 zal leiden. Dit zegt u wellicht niet veel. Maar deze stap van 0,6 naar 0,4 zorgt er eigenlijk voor dat om hier aan te voldoen alle nieuw te bouwen woningen voorzieningen op het dak gaan krijgen. In principe zal het met enkele zonnepanelen (voor opwekken energie) of zonneboilers (voor directe verwarming water) kunnen, maar zonder is bijna onmogelijk.
De afgelopen jaren hebben wij al enkele woningen gerealiseerd die al ruim voldoen aan de eisen van de toekomst, met woningen die richting 0,0 (bijvoorbeeld
Villa aan het Spaarne
). Dit is dan ook iets wat wij al jaren graag nastreven.
Wij hebben in ieder geval veel kennis op het gebied van energiezuinige gebouwen. Wij denken, zoals we
in onze visie hebben weergeven
, dat de duurzame maatregelen op technisch vlak goed moeten worden geïntegreerd in het ontwerp. Wanneer men alleen maar energiebesparing nastreeft krijg je veelal lelijke gebouwen met weinig openingen, matige materiaalkeuzes en slechte detaillering op het gebied van architectuur. Wij hebben waren en zijn helemaal voorbereid op de nieuwe eisen en geloven ook met deze eisen (en misschien meer) mooie projecten te kunnen ontwerpen en realiseren.
Voor meer informatie voor gevolgen voor nieuw te bouwen gebouwen kunt u
hier
(link) kijken en daarnaast kunt u direct
het ontwerpbesluit van de overheid bekijken
(link). Uiteraard moeten de waardes en eisen van de overheid aangehouden worden (mocht er een wijziging komen of een foutje in ons bericht sluipen).
We had the honour to give a lecture at the Venice Architecture Biennale - 11/28/14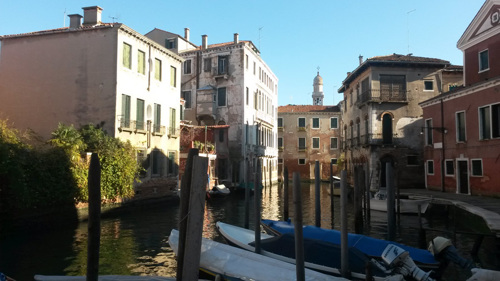 De wereldwijd bekende en geroemde architect Rem Koolhaas (
architectenbureau OMA
) was de curator van de
Architectuur Biënnale van Venetië
. Ter info: dit is een tweejaarlijks evenement in Venetië waar architectuur wereld uit vele landen zich door middel van tentoonstellingen en paviljoens presenteert aan elkaar. Normaal duurt dit event drie maanden maar door het enorme voorafgaande onderzoek voor deze editie was het nu zes maanden durend.
Wij waren geselecteerd door OMA om ons antwoord en onze visie te geven op de vraag: Wat is de rol van de architect (nog) in 2024. Wij hebben dit beantwoord vanuit het verband tussen architectuur (en de architect) en een economie, eerst door terug te kijken naar het verleden, gevolgd door een blik naar de toekomst. Onze lezing was onderdeel van een grotere discussie en volledig dagprogramma wat het zeer inspirerend maakte.
Een bezoek aan Venetië in november is al geweldig en mooi (zoals de foto duidelijk maakt), maar dit gecombineerd met een samenkomst van gepassioneerde architecten was een unieke gelegenheid.
Onze visie en kritiek maakte veel los bij het publiek en de aanwezige experts en leidde tot discussie die precies ging over waar het in onze ogen over moet gaan: hoe verantwoordelijk en belangrijk de architect is of moet zijn binnen de maatschappij.
Vanaf 1 november meer bouwen met minder regels - 28/10/14
Op 1 november treden er enkele invloedrijke nieuwe en/of aangepaste regels voor vergunningen en bouwen in werking. U leest hier meer over op de website van de overheid in dit artikel
'Meer bouwen met minder vergunningen vanaf 1 november' (link)
.
Voor vele particuliere woningbezitters is één onderdeel zeer interessant. Het vergunningsvrij vergroten van het hoofdgebouw wordt uitgebreid van 2,5 naar 4 meter. De gemeente kan altijd andere of aanvullende eisen stellen voor uw woongebied of uw woning (denk bijvoorbeeld aan stadsbescherming), maar in principe wordt er meer mogelijk.
Daarnaast wordt het onder andere ook mogelijk om in het achtererf bij een woning een woongelegenheid voor mantelzorg te plaatsen en ook voor bedrijven en ontwikkelaars wordt er meer mogelijk in relatie tot leegstaand vastgoed.
Our design for daylight house in Amsterdam in inspiration book - 10/06/14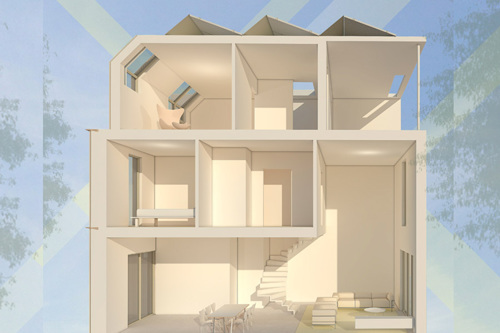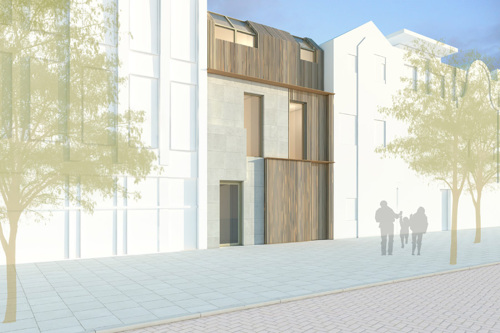 De gemeente Amsterdam heeft in navolging van de gemeente Den Haag een inspiratieboek opgesteld voor mensen die willen
zelfbouwen in Amsterdam
. Een goed initiatief wat vooral bedoeld is en moet zijn als inspiratie en niet als een catalogus. Mensen die willen zelfbouwen en
een kavel in Amsterdam
kopen krijgen zo een kans een architect te vinden die bij hun wensen past.
Ons ontwerp is ontworpen denkend vanuit de ervaring van een toekomstige bewoner, waar in de optimale ervaring van daglicht en ruimte voorop staat. Mooie raampartijen, een vide in de woonkamer, een vrije hoogte van drie meter op de begane grond, een daklicht boven het trappenhuis en een 'daglichtkamer' op de tweede verdieping zorgen voor veel natuurlijk daglicht en ruimtelijkheid. Daarbij is het een energie neutrale woning. De gevels zijn onder andere bekleed met fraaie verticale houten delen die de woning een mooie natuurlijke uitstraling geven.
This is design, and it is good: A super thin paper wallet! - 09/09/14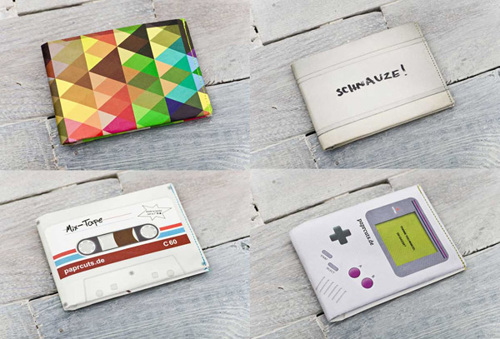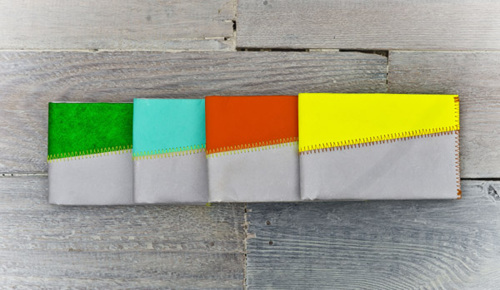 © paprcuts
Even weer een bericht over iets heel anders, maar wel over iets waar wij ons heel goed in kunnen vinden en waar wij enthousiast over zijn.
Het Duitse
Paprcuts (link)
is een initiatief wat de papiersoort Tyvek® gebruikt om hiermee zeer dunne, papieren hoesjes te maken, van pad hoes tot portemonnee. Wij kwamen het tegen in Berlijn en hebben uiteraard een telefoonhoesje gekocht. Het is in onze ogen zo een goed concept omdat het enerzijds innovatief is qua materialen en qua concept, maar anderzijds ook gewoon heel mooi is. Het is praktisch maar heeft ook schoonheid.
Eenmaal thuis hebben we meer informatie opgezocht en zij blijken nu ook een
crowdfunding
campagne te hebben. Wij hebben in ieder geval ook portemonnees besteld, maar ons bericht is uiteraard niet bedoeld om u iets te verkopen.
Wel om u op de hoogte te stellen van dit mooie concept.
Research related to architecture - 08/14/14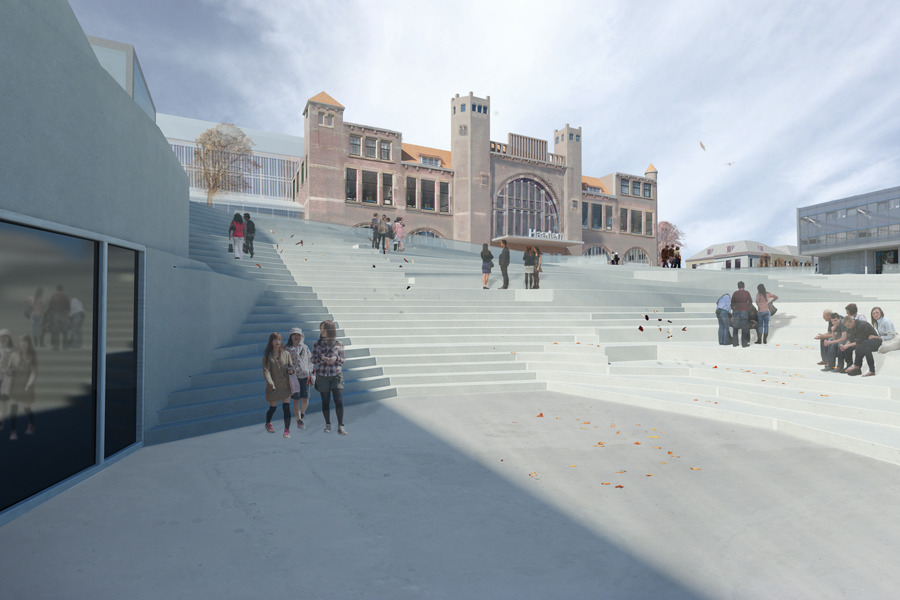 © derksen|windt architecten
Als architecten zijn wij naast onze lopende projecten altijd bezig met onderzoek rond diverse thema's die ons zo interesseren dat wij ons hier in willen verdiepen. Soms is dit aan een project gerelateerd, maar dit staat veelal los van ons lopende werk. Of met andere woorden is voor ons lopend werk. Op het
onderzoek gedeelte
van onze website vindt u vijf thema's waar wij mee bezig zijn en/of bezig zijn geweest. De thema's sluiten eigenlijk allemaal aan bij het voor ons zeer belangrijke 'vanuit de ervaring' ontwerpen.
Beautiful illustration of Claudine O'Sullivan - 24/06/14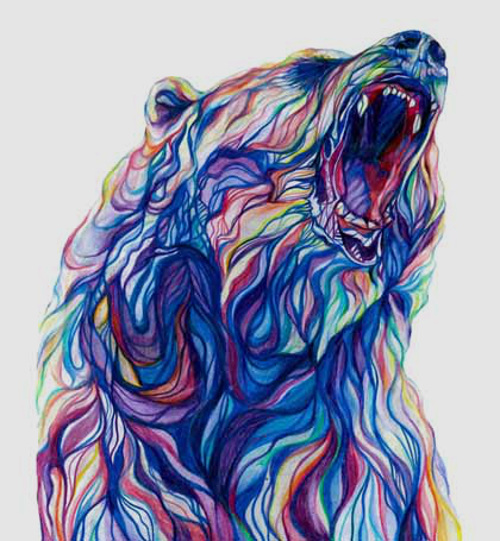 © Claudine O'Sullivan
In dit nieuwsbericht geen gebouw of iets wat met architectuur of techniek te maken heeft, maar wel met kunst. Tijdens het zoeken naar een mooie referentie voor een project kwamen we deze opvallende en kleurrijke illustratie tegen. Het is een bijzonder kunstwerk van
Claudine O'Sullivan
die illustraties maakt met behulp van traditionele technieken waarbij ze veelal dieren abstract weergeeft. Deze tekeningen van een beer is gemaakt van potlood en valt op door de uitgesproken kleuren en lijnen. Het is alsof de lijnen en kleuren het schreeuwen van de beer accentueren! Erg mooi vinden wij, een bezoek aan haar
website
en
facebook
pagina is zeker aan te raden.
100% of the home-builders with a building team, would build again – 16/05/14
De TU Delft heeft samen met OTB een onderzoek gedaan waarbij het zelfbouwproces wordt geëvalueerd in Almere. Waarom Almere? Omdat hier relatief gezien zeer veel zelfbouw wordt gerealiseerd. Het doel is dat dit ook in andere gemeenten meer gaat gebeuren en dit lijkt ook in de recente jaren steeds meer zo te zijn.
Het onderzoek is volledig te bekijken op
ikbouwmijnhuisinalmere.nl
en specifiek
via deze link
. Dat de zelfbouwers zo enorm tevreden zijn met het traject wat ze doorlopen hebben, en daarbij zelfs maximaal tevreden wanneer ze hebben gewerkt met een bouwteam, is een positief inzicht.
Een bouwteam houdt in dat de opdrachtgever samen met de architect en de aannemer en eventuele andere adviseurs in een team werkt. En dat al vroeg in het proces. Wij hebben dit al voor meerdere projecten gedaan en dit blijkt vaak voor alle partijen te zorgen dat er hogere kwaliteit tegen lagere kosten kan worden gerealiseerd.
Project "De Kuip": Two candidates who are both based on the exciting stadium – 04/03/14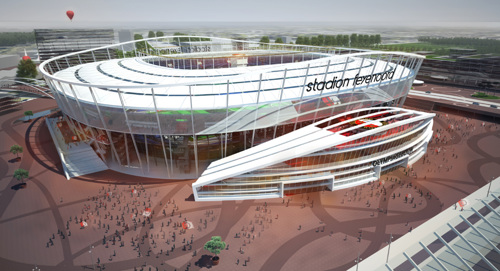 © BAM/A&E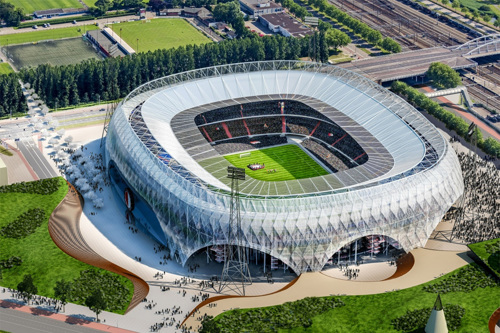 © Red de Kuip
Het proces om tot een nieuw stadion te komen wordt al ruim twee jaar door zeer veel publiek gevolgd en het is een achtbaan geweest van richtingen waarin het ging. Eerst leek nieuwbouw bijna zeker, nu zijn er van de zeven serieuze gegadigden twee kandidaten over gebleven die beiden uitgaan van het bestaande stadion. In onze ogen is dat laatste een goede keuze. Ergens anders nieuwbouw plegen en dan een stadion met een enorme capaciteit leeg laten staan of gebruiken met een 'excuus-functie' is niet goed. Ondanks dat het nieuwe stadion wellicht meer zou kunnen bieden en meer geld oplevert, staat de oude kuip er nou eenmaal al, en daar moet men mee omgaan.
Dat kun je op twee manieren doen vinden wij: 1. slopen en iets nieuws bouwen of 2. het oude laten staan en opwaarderen. De derde optie om het te laten staan en dan ergens anders nieuw te bouwen is alleen een optie als er echt een goede nieuwe functie is voor het oude stadion waar ook echt behoefte aan is. En naast dat de keuze voor optie twee de meest duurzame keuze is, is er altijd bij dergelijke projecten een emotioneel aspect wat zeer belangrijk is.
Some nice photos of the renovation of the pumping station - 02/13/14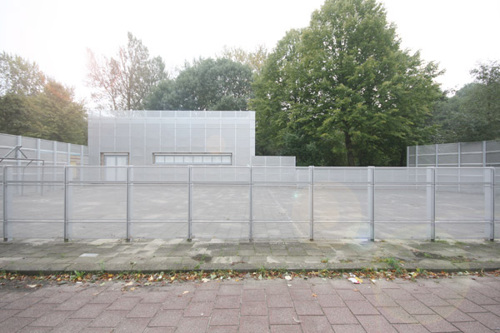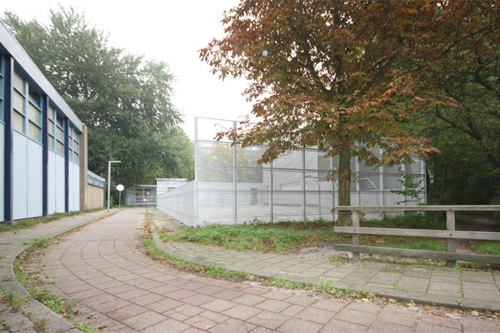 Wij hebben nog enkele foto's van het renovatie project '
Samensmelting oud pompgemaal en nieuw speelplein
' die wij in het najaar van 2013 gemaakt hadden bij een bezoek aan het project. Deze willen we toch nog graag met u delen. Het beeld op een ietwat heiige en mistige dag werkte in onze ogen goed.
Best wishes for 2014, with a beautiful photo of a very good building - 01/06/13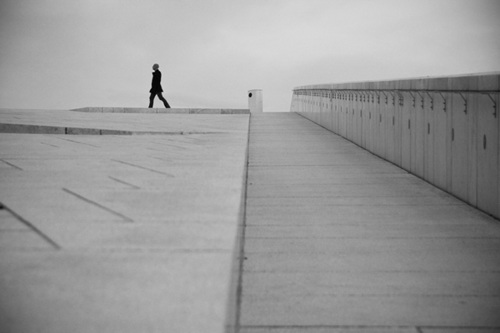 © Claudiu Fabian Milea
derksen|windt architecten wenst u al het beste voor 2014. We hopen op een mooi jaar voor iedereen. In de architectuur wensen wij iedereen een 2014 waar in vele mooie projecten gestart en gerealiseerd mogen gaan worden.
Bij deze nieuwjaarswens hebben we een mooie foto toegevoegd van een gebouw wat in onze ogen heel goed gelukt is, het opera house van Oslo. Ook de foto door
Claudiu Fabian Milea (link naar blog)
is zeer geslaagd. De beste wensen.
Ontwerp prijsvraag Building for Bouwkunde online, vier jaar na dato - 22/11/13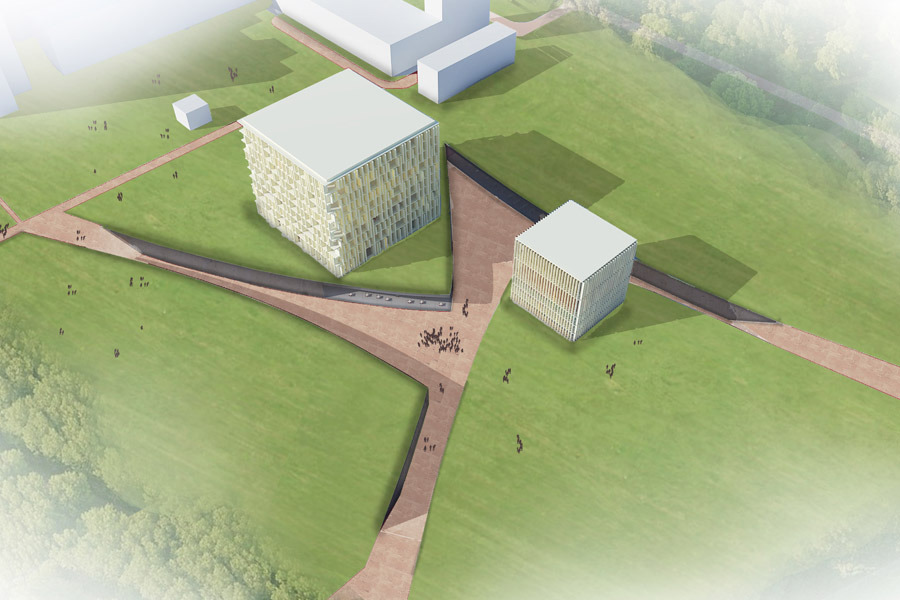 In 2009 was er de grote prijsvraag voor het nieuwe bouwkunde genaamd 'Building for Bouwkunde'. Aangezien wij in het eerste half jaar van 2008 afstudeerden aan diezelfde faculteit die in vlammen op ging deden wij hier met ons één jaar bestaande derksen|windt architecten aan mee. Wij maakten een in onze ogen goed ontwerp met een sterk concept en dachten dit met enkele dagen uit te kunnen werken naar het niveau waarop wij het wilden presenteren. Helaas lukte dat niet, hier was echt meer tijd voor nodig. Les geleerd. Uiteraard daardoor niet goed genoeg kunnen presenteren en geen selectie kunnen afdwingen. Maar de afgelopen jaren bleef het idee hangen om enkele mooie renders van het ontwerp te maken.
Aangezien onze stagiair Lennard zeer handig blijkt hierin, is hij twee weken in het oude project gedoken en heeft hij deze goede en mooie renders gemaakt. Dus bij deze, iets later dan gepland, het project
Building for Bouwkunde
bij de
projecten
.
WIJ ZIJN TROTS. Internationale media DESIGNBOOM en ARCHDAILY publiceren het project samensmelting pompgemaal en speelplein op de voorpagina! - 23/10/13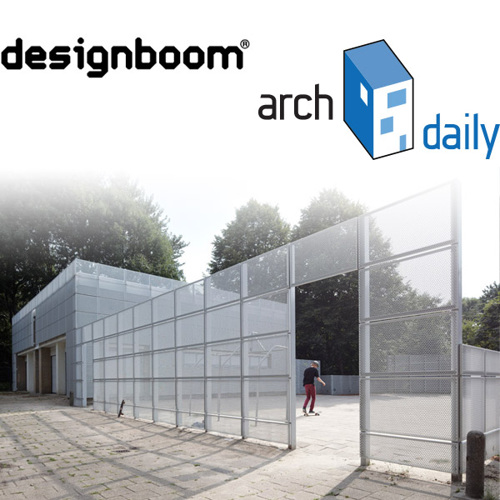 Na de media aandacht voor het project Cafetaria van Ruyven zijn we erg trots u te vertellen dat ook het project '
samensmelting pompgemaal en speelplein
' te Delft heel veel aandacht krijgt. Wellicht denkt u als volger van ons dat bijvoorbeeld
Designboom
bijna ieder project publiceert. Want we staan er weer op. Maar dit is echt bijzonder. En dit keer heeft ook
Archdaily
besloten ons te publiceren. Samen zijn deze magazines, met miljoenen bezoekers per maand (
letterlijk miljoenen
) de grootste design en architectuur magazines wereldwijd.
Deze toonaangevende media krijgen vele aanmeldingen waarvan maar heel weinig projecten op de voorpagina komen. Maar wij, als klein Neerlands architectenbureau, staan vol op de voorpagina (print screen
Designboom
en
Archdaily
). Daar zijn we trots op en dat laten wij u graag weten!
De link naar de projectpagina voor Archdaily en Designboom:
Transparent Fusion / derksen | windt architecten
(Archdaily)
derksen windt architecten fuse pumping station + playground
(Designboom).
Zeer inspirerend idee: Phonebloks (wellicht ooit toe te passen binnen de architectuur!?) - 23/09/13
©www.phonebloks.com
Allereerst is het
Phonebloks
concept zeer sterk en is dit met het oog op de toekomst, met steeds meer continu veranderende behoeften en minder voorradige grondstoffen, een heel goed idee. Daarnaast zijn ook het filmpje en de
website
goed gemaakt.
De Nederlandse bedenker Dave Hakkens verdient veel credits voor dit goede concept wat op het moment dat wij erover schrijven al bijna 300.000.000 mensen bereikt. Om het initiatief via de social media te steunen en uit te dragen kunt u
hier
klikken. Wij hebben dat in ieder geval vast gedaan!
Vertrouwen in de economie - 09/07/13
De economische situatie in Nederland lijkt vooral een probleem in vertrouwen. Het begint onderaan, wanneer de consumenten (dus wij allemaal) weer zouden gaan consumeren trekt de economie naar boven toe zeer waarschijnlijk aan. Maar waarom gebeurt dit dan niet?
Het is heel menselijk om bij een minder goed vooruitzicht of minder duidelijk vooruitzicht angstiger te worden. En de politiek doet er de laatste jaren alles aan om vanuit angst te regeren. Iedere bezuinigingsaankondiging doet het vertrouwen weer pijn. Hierdoor gaat de economie nog moeilijker draaien, en is er een jaar later weer een bezuiniging nodig volgens de maatstaven van onze regering. Het is geen regeren maar reageren. Hier hebben we niet veel aan. Wanneer er duidelijkheid komt ontstaat er zekerheid en daarmee een ondernemersklimaat. Helaas kunnen wij hier niet veel aan doen. Hoogstens goed nadenken bij de volgende verkiezingen.
Maar het rondje, wat nu de verkeerde kant op gelopen wordt, moet andersom gelopen gaan worden. Een patroon moet doorbroken worden. Ook wij als ondernemende Nederlanders moeten een positieve instelling aannemen. Uiteraard is het nu rustiger bij bedrijven en winkels, en uiteraard zijn er veel mensen die het echt lastiger hebben dan voor 2008, maar het helpt niet dat alleen te benadrukken. Dat is die tendens waarin we nu al vijf jaar zitten en we schieten daar echt helemaal niets mee op.
Misschien is het te simpel gedacht, maar misschien is het niet ingewikkelder dan dit: Positief blijven kijken naar kansen in de toekomst, in plaats van alleen maar kijken naar de donderwolken en wellicht zwaardere tijden die komen. Als mensen echt proberen door te pakken en voort te gaan, in plaats van krampachtig aan de bestaande situatie vast te houden, zou alles weleens sneller goed kunnen gaan dan nu gedacht.
Cafetaria van Ruyven ook gepubliceerd door vooraanstaand FRAME web - 14/05/13

Enkele weken geleden konden wij u melden dat ons ontwerp van Cafetaria van Ruyven door diverse media is opgepikt, zowel nationaal als internationaal. Ditmaal verdient de plaatsing door het vooraanstaande FRAME extra aandacht, aangezien dit een zeer gerespecteerde uitgever is die eens in de paar dagen een architectuur project uit de wereld uitlicht. En zij hebben gekozen voor ons project. U vindt het artikel
hier
en in het algemene nieuws
hier
.
PUBLICATIE OP VOORPAGINA DESIGNBOOM!!! Hét online magazine qua architectuur en design - 16/04/13
We zijn als architect erg trots dat het door ons ontworpen Cafetaria van Ruyven veel aandacht blijkt te krijgen van diverse media. Zo werd het in Nederland al op
architectuur.nl
geplaatst en opgenomen in de veel gelezen in de Benelux verspreidde nieuwsbrief van bouw en wonen. Maar nu is het internationaal opgepikt door het zeer vooraanstaande architectuur en design magazine
designboom
. Een magazine wat ook wij altijd vol enthousiasme lezen en bekijken. En nu staat daar opeens ons project op de voorpagina. Met een direct bereik (onder andere via social media en nieuwsbrief) van honderdduizenden (letterlijk) volgers en lezers. Ja, wij zijn trots.
Manufactured landscapes - the photographs of Edward Burtynsky - 13/03/13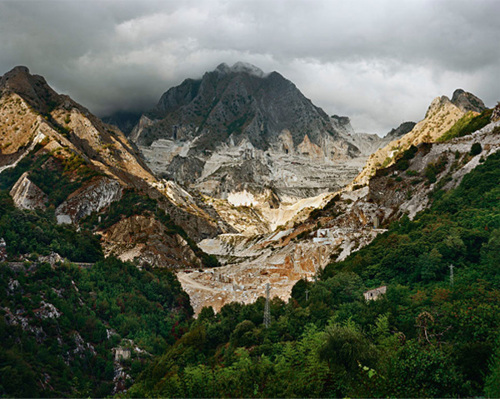 © Edward Burtynsky, courtesy Nicholas Metivier Gallery, Toronto
Manufactured landscapes - the photographs of Edward Burtynsky is een fascinerend boek met een unieke verzameling foto's van Edward Burtynsky dat, of u dit als lezer nou wilt of niet, zeer belangrijke maatschappelijke thema's aansnijdt en de lezer laat denken over de westerse maatschappij. Wij hebben dit boek zelf aangeschaft en het mooie is dat wanneer je de foto's los bekijkt, als foto's op zich, het ook prachtige beelden zijn. Dit maakt het een spannende collectie die wij zeker aanraden.
Säynätsalo stadhuis van Alvar Aalto - 11/02/13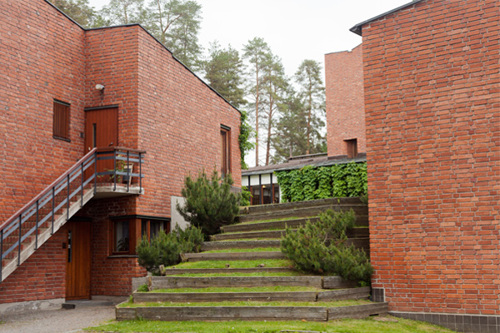 © Addison Godel
Wij willen u in dit deel van onze website graag op de hoogte brengen van 'dingen' die wij mooi en interessant vinden. In dit geval is dat een ontwerp van de Finse architect Alvar Aalto, die van 1923 tot 1976 architect was, voor het stadhuis van Säynätsalo gelegen in Finland. Aalto was, in de tijd dat strakke, industriële en modernistische gebouwen erg populair waren, veel bezig met natuurlijke materialen, vormen en structuren. Voor dit stadhuis ging hij qua indeling uit van een Italiaans aandoende binnenplaats waaromheen de functies zijn gelegen.
Het lag wellicht voor de hand om de wanden rond de binnenplaats van glas te voorzien. Zijn keuzes van de vormen en materialen voor de functies die hier omheen liggen zijn echter bijzonder en bijzonder mooi. Het is een compositie van vlakken metselwerk die samen een spannend en levendig beeld geven. Het stadhuis is aan de zijde die wij tonen op de
foto (link)
bijna een dorp waarin je binnenkijkt en dit geeft een vertrouwelijk en toch zeer boeiend beeld.
Goede feestdagen en een inspirerend 2013! - 21/12/12
Wij wensen u namens derksen|windt architecten hele goede en ontspannen kerstdagen toe en we hebben weer heel veel zin om, wellicht samen met u, in 2013 mooie ontwerpen te maken en realiseren. Eén van onze projecten die we begin 2013 gaan opleveren is een renovatie in Delft. We hebben al eerder een foto getoond van de voortgang aan het metselwerk. Hierbij nog een kleine sneak-preview.
Duurzaam Gebouwd Congres - 21/11/12
Het kennisplatform duurzaam gebouwd hield afgelopen donderdag 15 november een congres waaraan wij deel hebben genomen. Het een inspirerend congres dat inzicht gaf in de lopende en komende ontwikkelingen op het gebied van duurzaam bouwen. Daarnaast wordt duidelijk wat er op ambtelijk niveau speelt, zowel landelijk als lokaal. Voor de website duurzaamgebouwd.nl hebben we een
verslag
geschreven met een samenvatting van het congres.
Eerste kijkje: renovatie Delft start met herstel metselwerk - 30/10/12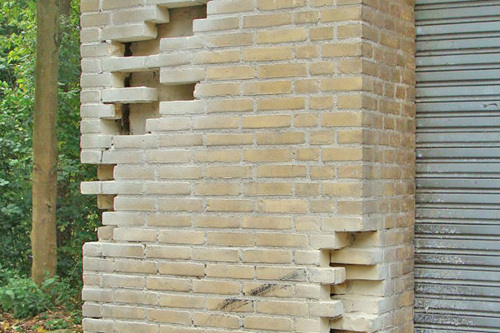 Een eerste kijkje bij de bouw van ons recente project, een renovatie van een klein industrieel gebouw te Delft. De bouw start met herstelwerkzaamheden aan het metselwerk. De volgende stappen zijn herstel en vervanging van boeidelen ramen en (rol)deuren. Daarna komt ons ontwerp echt tot uiting door een tweede gevel voor het gebouw. We houden u op de hoogte, zullen u af en toe kijkje geven in het project en wanneer het af is komt er een mooie reportage van.
Video: hoe wordt de beroemde stoel 'Series 7' gemaakt? - 04/10/12
Arne Jacobsen ontwierp in de twintigste eeuw vele meubelen. Hieronder valt de in zijn eenvoud zeer mooie stoel 'Series 7'. Deze wordt geproduceerd door het Deense bedrijf
Fritz Hansen (link)
. Zij hebben een kijkje in hun keuken gegeven met deze prachtig gemaakte video 'The making of Series 7'. Hopelijk raak u net als wij geïnspireerd door dit vakmanschap.
Zeer mooi project: stoel van 10.000 rietjes door Scott Jarvie - 05/09/12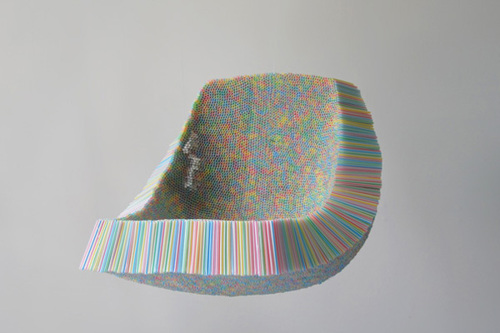 © Scott Jarvie
Deze stoel is gemaakt naar observaties van de structuren van bomen. Op de
'website van Scott Jarve
wordt dit verder toegelicht met beeldmateriaal. Maar het eindresultaat op zich is een ding dat in onze ogen prikkelt en een zekere schoonheid herbergt.
ervaring van architectuur: Schoonheid in Iran - 24/05/12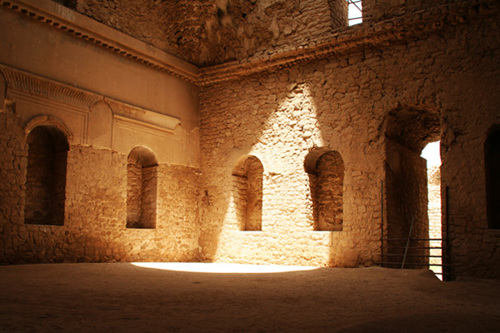 © Maarten Krijger
Deze mooie foto is enkele jaren geleden genomen door één van onze reisgenoten op een reis naar Iran. Dit is een land wat qua architectuur overweldigend mooi bleek te zijn.
Maar naast de fraaie, in goede staat verkerende gebouwen waren er ook prachtige oude steden en complexen. Zo ook in Pasargad.
Deze stad werd omstreeks 550 voor Christus gesticht door Cyrus de Grote. Naast de bijzonder mooie ligging boven op een berg, bood dit oude complex ook een prachtige ruimte met mooie lichtinval. Dit wilden wij met u delen.
In Het Houtblad met interview en foto's - 03/05/12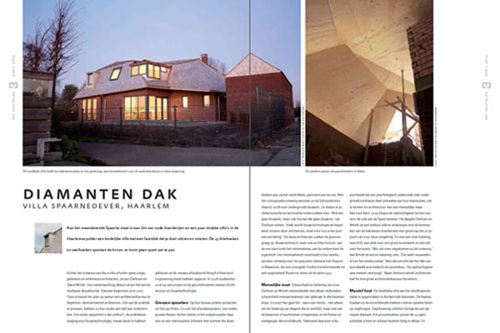 'Aan het meanderende Spaarne staat in een lint van oude boerderijen en een paar strakke villa's in de Haarlemse polder een landelijke villa met een facetdak dat je doet uitzien en omzien. De 23 driehoeken en veelhoeken spannen de kroon: er komt geen spant aan te pas. Achter het ontwerp van deze villa schuilen twee jonge, gedreven en ambitieuze architecten: Jeroen Derksen en David Windt.' (tekst Margo Verbiest, Het Houtblad)
U kunt de editie van Het Houtblad van deze maand bestellen via de website van
Het Houtblad
.
OmnesViae: Tabula Peutingeriana - 31/01/12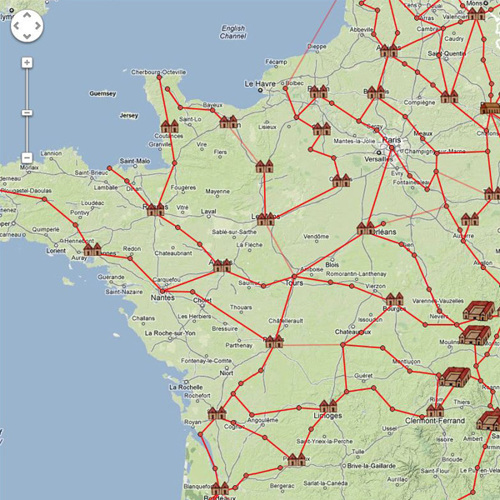 © https://omnesviae.org/nl/
"Voer onder 'Iter vestrum' (latijn voor 'Uw reis') bij 'ab' (van) en 'ad' (tot) een plaatsnaam in zoals te vinden op de Peutinger kaart. Na invoer van enkele tekens zullen alle passende namen getoond worden. Voor sommige steden kan de hedendaagse naam ingevoerd worden. Let op dat dikwijls een 'v'- in plaats van een 'u'-teken wordt gebruikt. Idem dito voor de 'i' en 'j'. Klik op 'Ostendere' ('Toon het') om onder 'Iter brevissimum' de kortste route getoond te krijgen."
Dit is de beschrijving op de google maps site omnesvitae. Een ongebruikelijke beschrijving. Dit is echter geheel te verklaren aangezien het hier om een kaart gaat uit de Romeinse hoogtij dagen op de website
omnesviae.org
. Ook dit is zeker een bezoek waard!
De beste wensen voor 2012 - 23/12/11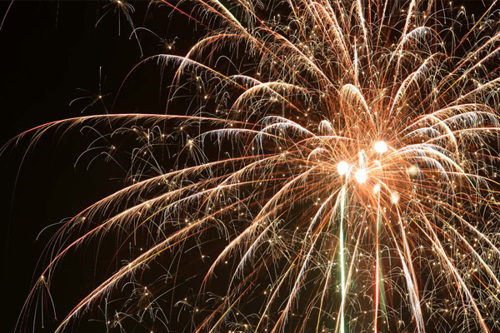 © Rob SchlÜter
derksen|windt architecten wenst u een gelukkig nieuwjaar! Nu het einde van 2011 nadert kunnen we terug kijken op een goed jaar waarin we mooie ontwerpen hebben gemaakt. De mooie villa aan de Spaarne oever, een fysiopraktijk die ingrijpend verbouwd wordt, de verbouwing in gemeente Midden Delfland die is opgeleverd en de hieronder vermeldde start van de bouw van cafetaria van Ruyven. We kijken uit naar 2012, net zo'n inspirerend jaar als 2011!
'Ik zie daar een kerk, daar zal het centrum zijn' - 06/09/11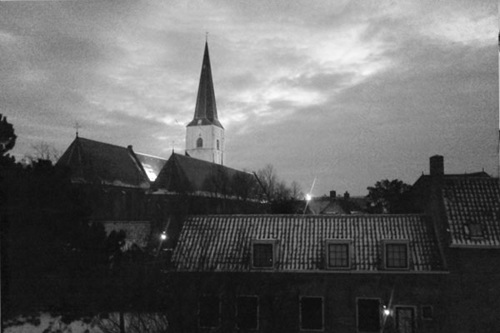 Het kerk-gebouw verliest tegenwoordig in Nederland zijn oorspronkelijke functie. De afname van kerk bzoekers in sommige delen vanNederland zorgt voor leegstaande, maar mooie gebouwen. Echter, de kerk verliest niet alle functionaliteit. De kerk is namelijk van oudsher letterlijk het middelpunt van de stad en van de samenleving.
Mensen oriënteren zich nog steeds door bij aankomst in een stad te zoeken naar kerktorens.
slechte ontwikkeling: welstand eindhoven afgeschaft - 23/05/2011
Gemeente Eindhoven heeft als tweede gemeente van Nederland
de welstandcommissie af geschaft
. Vele particulieren in Nederland hebben de welstand vervloekt wanneer zij hun schuur niet mochten verbouwen of een dakkapel niet mochten plaatsen, daar is de welstand ook wat te ver in gegaan. Maar de welstand heeft absoluut waarde bij nieuwbouw projecten (van woonhuis tot kantoor of museum), bij renovatie van waardevolle gebouwen en bij het bepalen van de waarde van gebouwen. Anders wordt er op los gesloopt, wordt er efficiÎnt maar lelijk gebouwd, en gaat het geld de gebouwde omgeving (nog meer) domineren. Dat Eindhovens voorbeeld maar niet doet volgen.
derksen|windt architecten in de cobouw - 12/04/11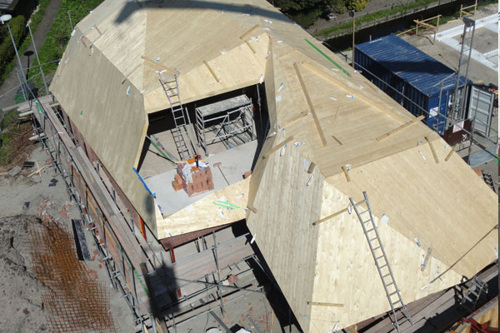 Het bouwblad Cobouw heeft een artikel geschreven over de bouw van de door Jeroen Derksen en David Windt, derksen|windt architecten, ontworpen villa. Het bijzondere aan
de villa
is het dak dat uit meerdere houten panelen bestaat die in vorm als in afmeting verschillen. Het mooie dak geeft een eigentijdse uitstraling aan een traditionele typelogie.
Voortgang bouw villa spaarne oever - 15/01/11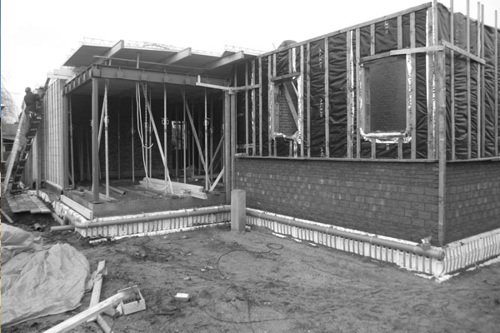 Zo nu en dan geven we een update over de voortgang van onze projecten die gebouwd worden. Zo krijgt u reeds inzicht in de lopende projecten, wanneer deze dan opgeleverd worden komen de uiteindelijke foto's onder
projecten
op de website te staan. Na de strenge winter met sneeuw en vorst is afgelopen week de eerste verdiepingsvloer geplaatst bij
ons project
. Tegelijkertijd is op de begane grond het metselwerk met de grote raamopeningen zichtbaar aan het worden.
Mooie witte make-over - 21/12/10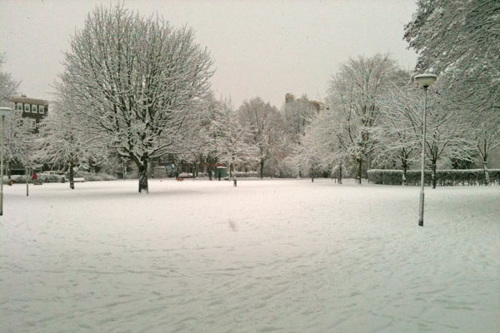 Onze omgeving is in één nacht enorm veranderd door de gevallen sneeuw. Eerder deze maand was het geleidelijk wit geworden, maar deze sneeuw was weer gesmolten. Nu was er met tientallen centimeters sneeuw in één nacht een witte wereld. Dit blijft een bijzondere transformatie, een wereld vol van steen en bestrating krijgt opeens een 'make-over'. Het is nu genieten van het nieuwe landschap, zowel in het wit geworden groen als in de wit geworden stad.
eerste aanvraag bouwvergunning via WABO - 08/10/10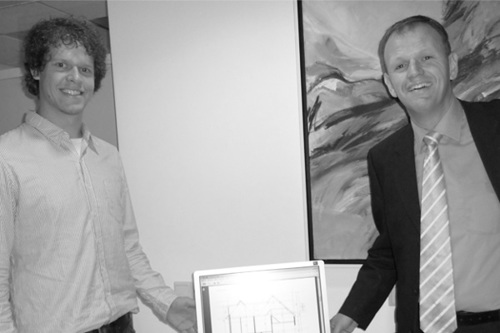 © gemeente Midden Delfland
Sinds 1 oktober 2010 is de nieuwe Wet Algemene Bepalingen Omgevingsrecht, WABO, in werking getreden.Hiermee is het mogelijk digitaal een bouwvergunning aan te vragen, wat de aanvraag efficiënter maakt. Aangezien derksen|windt architecten de eerste partij was die een vergunning volgens de WABO aanvroeg in gemeente Midden Delfland, moest dit gevierd worden met o.a. Jeroen Derksen en de wethouder van Ruimtelijke Ordening.
#home
#onze projecten
#omhoog
#contact
Preview Splitlevel house Capelle aan den IJssel - 05/03/20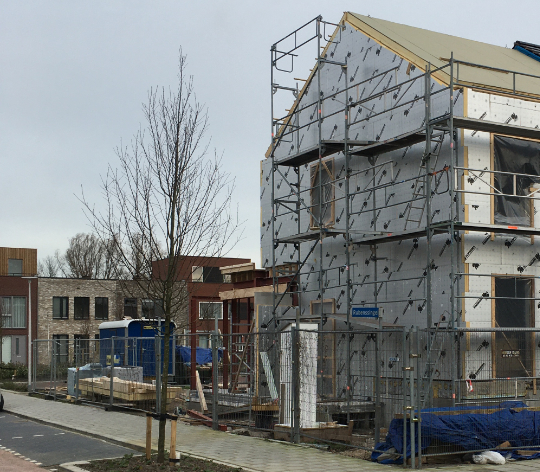 In the Dutch town of Capelle aan den IJssel we designed a split-level house that is currently being build. De ground floor is raised three steps from the surrounding garden and is divided into two parts; a spacious kitchen at the back (garden) side and a living at the frontside that is also raised three steps. The split level with staircase at the center gives the house an extraordinary effect.
The kitchen at the garden side is cladded with translucent panels with large folding doors that give access to the garden. The main volume is cladded with pre-fabricated concrete panels with a wood structure. These panels are currently fabricated of which we like to share an image. The expected completion date is this spring.
Creating and realizing beautiful, original smart designs is our passion, as it will be in 2020 - 19/12/19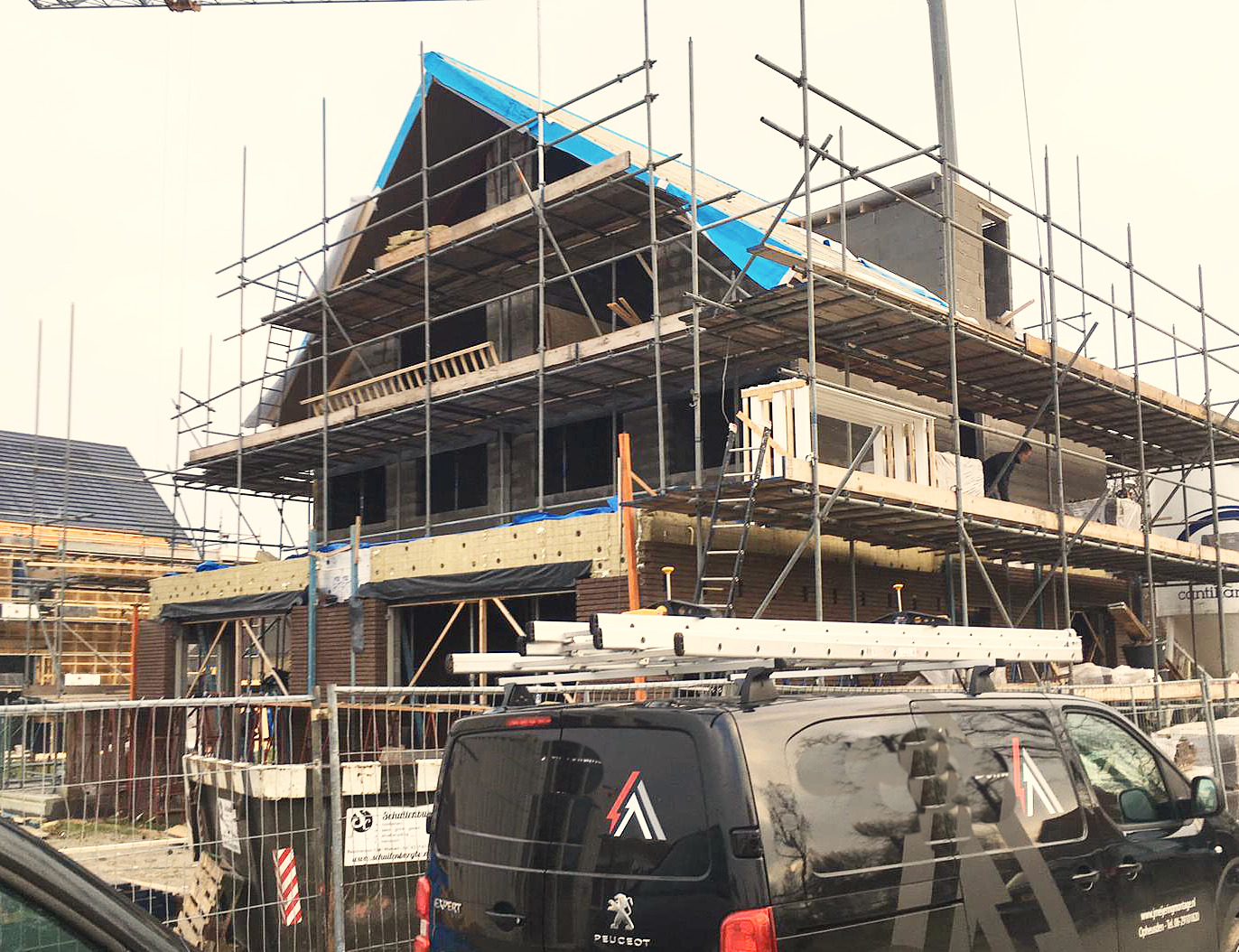 Now that 2019 is almost over, we can say that we are very satisfied with the beautiful design assignments for which we have been asked to come up with an answer this year. In addition, various and interesting projects, which started in both last year and before, are currently being realized or are about to be built. We are looking forward to a beautiful 2020.
Schools and derksen|windt architecten - 15/11/19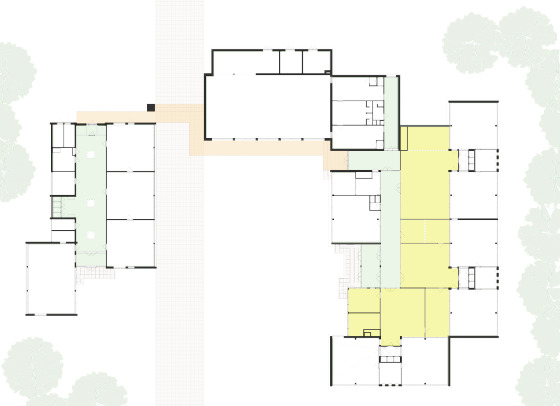 Since our research into the reuse and renovation of existing school buildings in 2014, we have been involved in this task through our projects and research. We would like to further explain this subject, as it is not so easily displayed in the projects or research page on our website.
Many school buildings are decades old and no longer meet the current standards for spatial possibilities and use, but certainly also for the indoor climate and energy consumption. Demolition and new construction is often the chosen path, but there is an alternative: a tailored renovation specific to that school.
For example, a post-war school often has beautiful high and large spaces with many windows and is well built. What we strive for is to use the 'old' qualities again with a design that is in line with the current and future wishes of a school board, to create extra space for this (which is often relatively easy to realize in or on top of the building) is) and equally sustainable.
The school gets a contemporary and fresh look with its own identity, and meets current standards. We believe that for certain schools these renovations can be smarter and cheaper than a new construction, including future use. This certainly does not apply to every school, sometimes new construction is the best option. But many buildings offer an enormous number of possibilities and with a cheaper and quicker construction design, several schools can be modernized on a short term, whereby the children and teachers are able to teach in a building with a healthy indoor climate.
We are proud to inform you that our recent project 'Beautiful industrial building based on the qualities of the sawtooth roof' in Rozenburg is being featured by various media - 06/09/19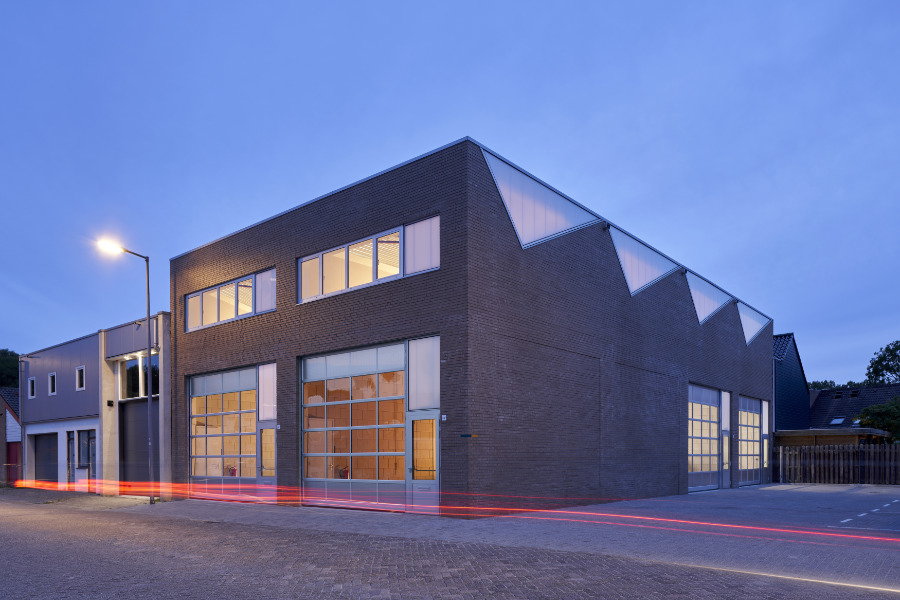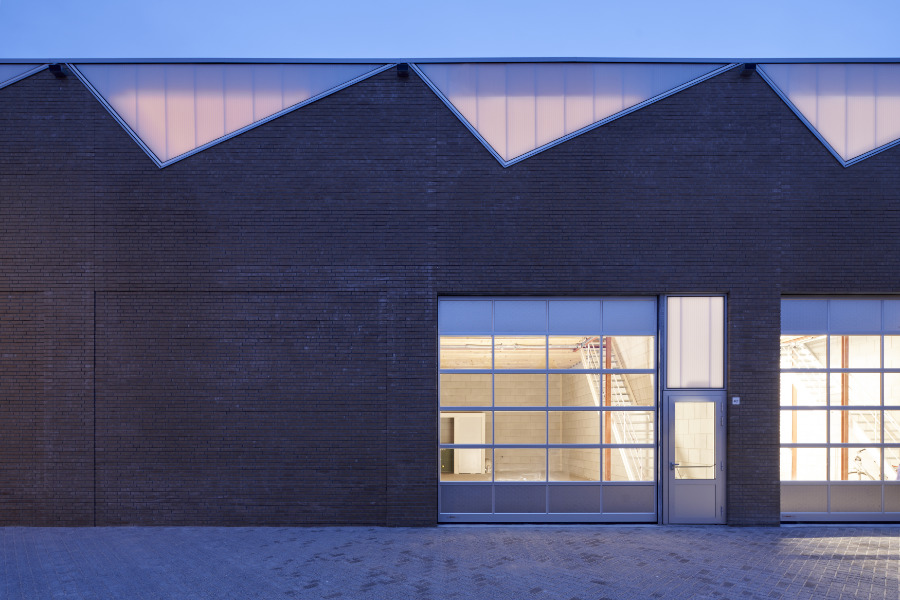 © photographer rené de wit
Among others, the Dutch
architectenweb (see link here)
and the prominent Italian and internationally oriented
online magazine Floornature (link)
and the architecturewebsite
Archdaily (see link here)
published the project on their front page. You can find more / everything about
this project on our website (link)
.
The 'Departement Omgeving' of the Flemish government investigated the social costs of dispersed building - 08/06/19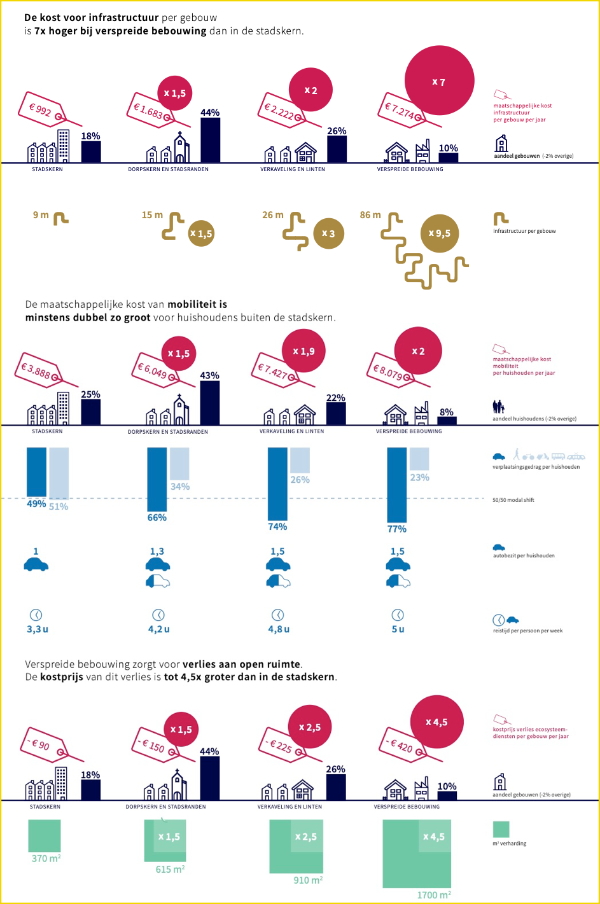 © Departement Omgeving
The discussions and developments concerning urbanization and/or the spread of buildings are currently very important for densely built-up areas such as the Netherlands and Flanders. In terms of capacity, the infrastructure, of which the commuter traffic is a large user, runs close to the limit. With the support of VITO, the
Environment Department of the Flemish government
has conducted
extensive research (link here)
into what the social costs are for the spread layout of buildings. Very interesting to look into. And an important conclusion: By reducing scattered building and adding more public space could reduce the (high) social costs that society is facing.
The beautiful Sculptural Garden by Edward James in Las Pozas - 10/04/19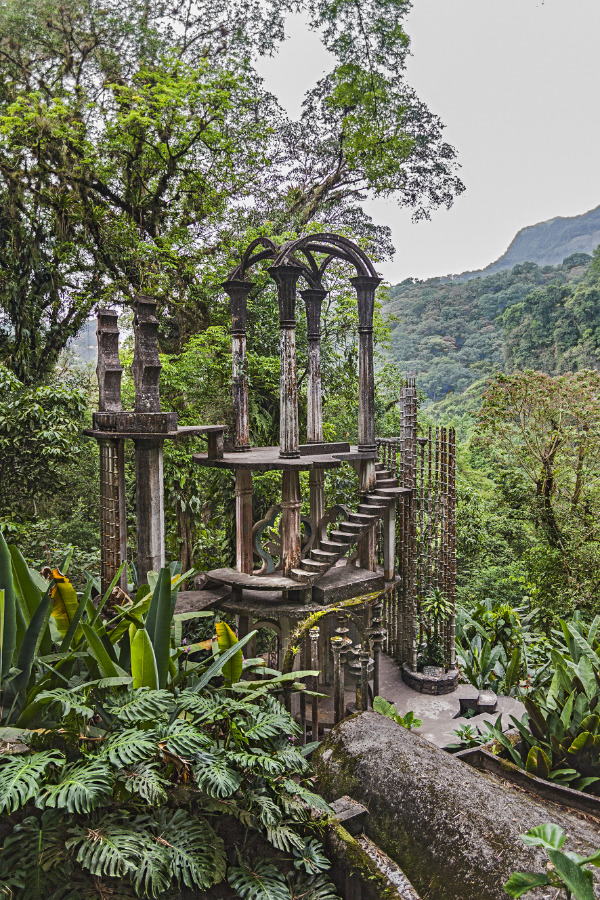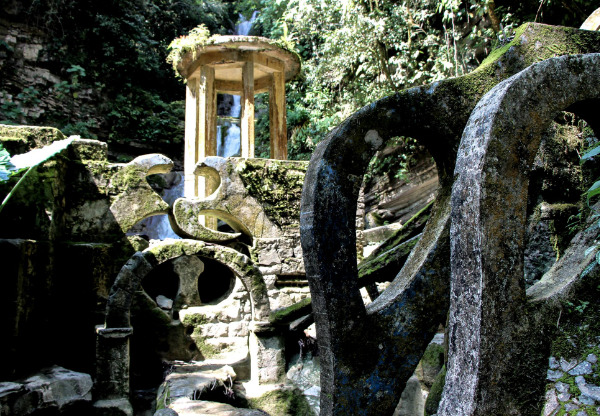 © Sculptural Garden, Edward James, Las Pozas & Pedro and Elena Hernandez Foundation
Edward James was a wealthy English artist who left a very special artistic work. As a major supporter of surrealism, an art movement whose manifesto was described by André Breton as 'dictates of thought, without regulatory reason and devoid of worry concerning style and moral', he has created a sculptural Garden in Las Pozas, Mexico that is both beautiful as it is in balance as it is natural. A wonderful world nested in the green surroundings, built by more than 150 people under his (artistic) leadership.
There is more on this artwork on the website (link)
. The site has been protected, restored and maintained by the Pedro and Elena Hernandez Foundation since 2007, thereby preserving this inspiring work.
Article on Architectenweb about extension inside outside - 05/03/19
One of our projects we are very proud of has received a lot of media attention over a year and a half ago after we shared the photos. Various media outlets have paid attention and we have shared that happening with you in general.
However,
this article
on the leading
Architectenweb
is worth bringing to the attention. Through the text there is more to read about the project and it is a great way to have a look at the project again.
All the best for 2019 - 21/01/19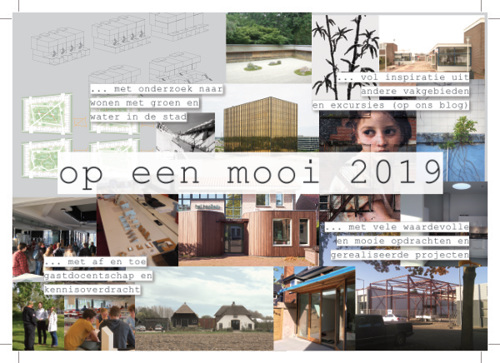 All the best for 2019, our good acquaintances have received a card with this sincere wish, we also like to share this message with you. If you have not received the card and do belong to our inner circle, you should definitely email us, perhaps something went wrong. Otherwise and in any case, hereby, to a beautiful 2019.
(4 YEARS AFTER OUR FIRST Blog item ON THIS GREAT INITIATIVE) THE OCEAN CLEANUP REALLY INTO OPERATION - 11/11/18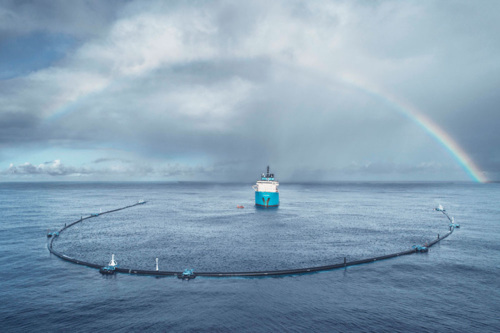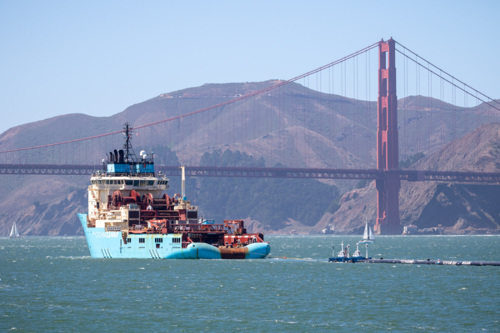 © The Ocean Cleanup
Years ago the Dutch Boyan Slat found an idea to get rid of the plastic waste in the ocean. This got a lot of media attention but that doesn't mean anything. After a huge journey, he and his company
The Ocean Cleanup
managed to get a first ocean cleaner out on the sea. These photos are beautiful but do take a look on
their website
for much more information about this inspiring project.
The 'perfect' Nolli citymap, 1748 - 02/10/18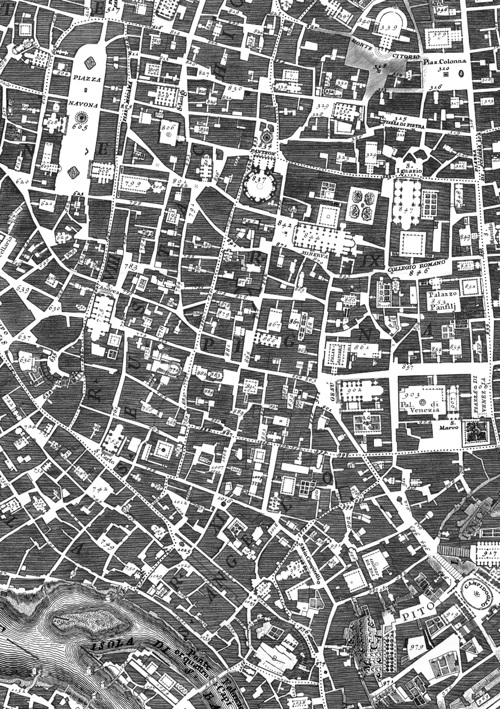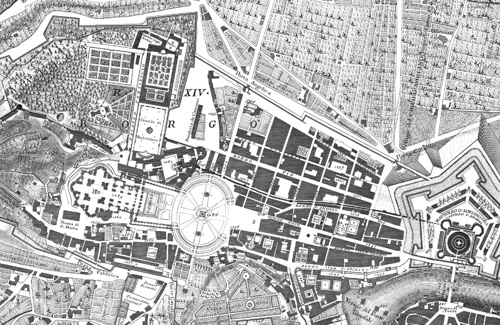 For millennia we have been aiming for good maps of our ever-expanding cities. Over the centuries, different ways of mapping the city have been found. Giambattista Nolli may have found the best version of a map in 1748, and this may not yet have been surpassed, in our opinion.
What makes his map of Rome so special is, in addition to the 12 years of measuring and engraving work, that he shows the difference in public and private spaces. Where, for example, the interior of the Pantheon is shown as it was a square on the street.
All the very detailed parts of the map (of very good quality) can be found on
Wikimedia
. Worth seeing as far as we are concerned!
In the Betuwe we renovated an old farm, which we connected to the restored barn by a copper corridor - 04/09/18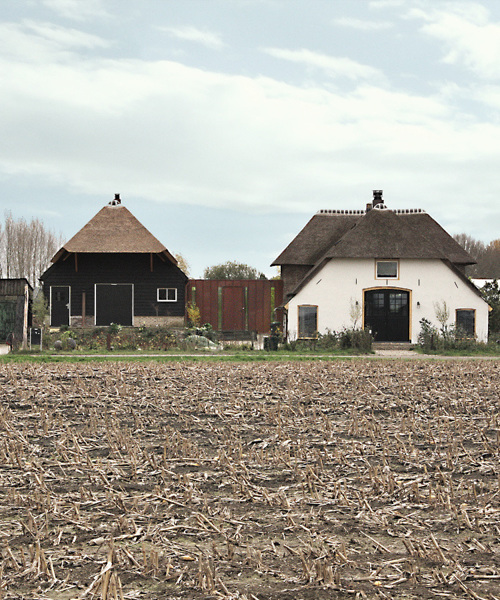 realizing our designs - extension of a house in Heemstede - 13/07/18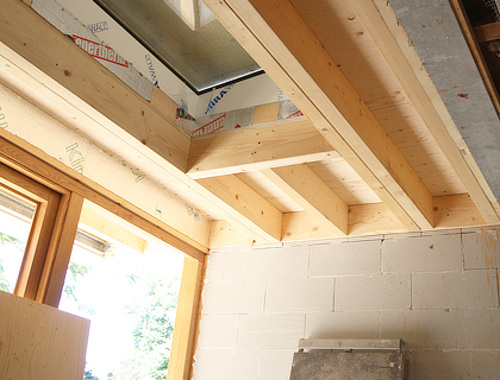 For a '30 house in Heemstede we redesigned the ground floor and made a design for an extension of the back facade. We enlarged the dining room and added a roof light, large oak window frames and an overhang with a pitched roof cladded with natural slates. The contractor Pieter Hoek of Bouwbedrijf D. Hoek just placed the window frames and started working on the wooden facade and the overhang. The beautiful transition between the inside and outside is getting more and more visible. Soon more information about this project!
DANCE AND PHOTOGRAPHY, BAKi - 07/05/18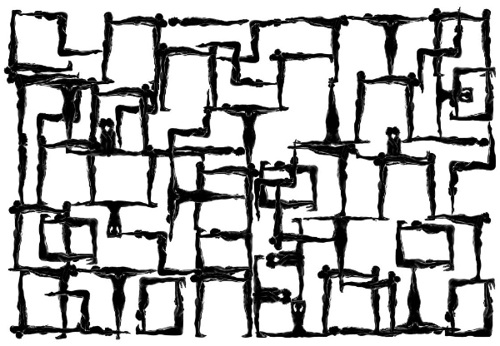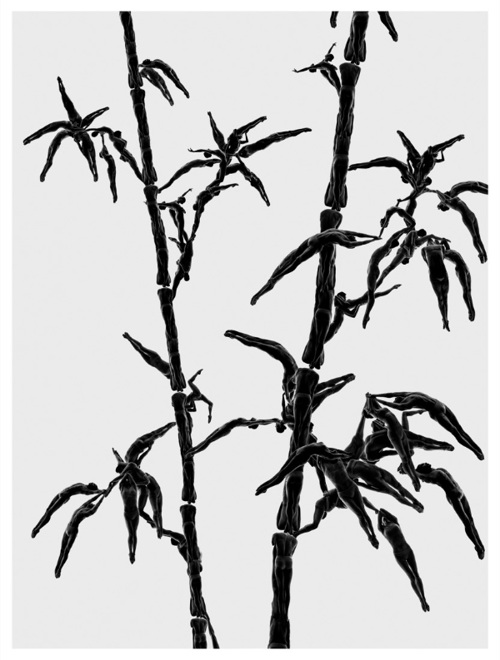 © BAKi
The photographer, artist and dancer BAKi makes extraordinary art. From his experience with and knowledge of dance, he creates images that are made from and with dancers. His diverse work is well worth viewing
on his website (link here)
. Above you will find two images from the Shadows series. Intriguing and beautiful.
Architectuurexperiment in de Flevopolder - Nagele - 28/03/18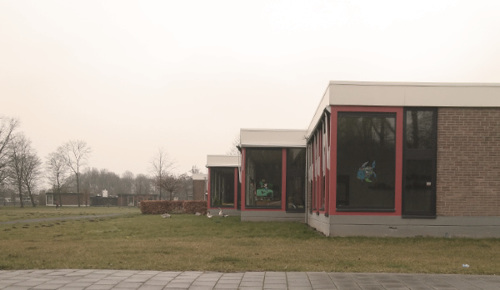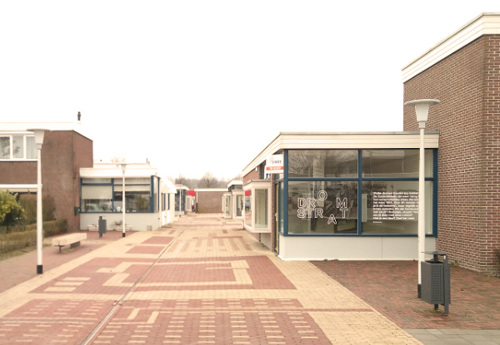 In 1932 the Dutch Zuiderzee was closed off by the Afsluitdijk. In 1942 large parts of the current Flevoland became dryland. In other words: New land, new opportunities and need for new villages.
After a few of these villages were built in a very traditional way, a group of young and more modern architects decided to approach the government. In a letter they asked, freely translated, to be able to prove that it can be done differently. And indeed, this group 'de 8 en opbouw' was assigned for the design of a village which was to be built.
What follows was a very interesting design process and an equally interesting result. With minimal budget the (now) world-famous architects like Van Eyck, Rietveld and Bakema have renewed the architecture world from there studies for Nagele. This has led to, among other things, an almost prototypical new Dutch school (Van Eyck) and the basis for what would later become the Lijnbaan in Rotterdam (Broek Bakema). More about all this can be found
here (link)
and you should definitely stop by Nagele for a visit.
Collective Private Developement - 11/01/18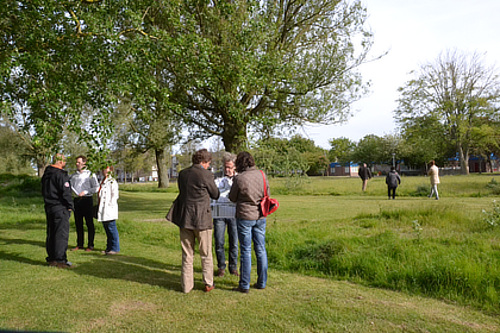 When looking for a new home you are most likely searching for a preexisting house or a house thats just completed by a developer. In the last case, a developer realized a house designed according to the average housing needs. Of course, this can result in a good and affordable house, but its also possible to realize a house thats been designed specific to your needs and wishes. In this case you can be the developer of your future house, a process that can lead to beautiful and originals results.
The next step is joining with other interested potential private developers. This process is done a small scale in the Netherlands and is called Private Collective Development. Because you develop your own house, it will be exactly according to your own wishes and there are less people involved in the process. You are also more involved in the overall process, both designing and realizing, in our opinion a very positive experience for the future owners. Next to that its also possible to create a more sustainable and social public space because you can design it with your future neighbors. For more information please contact us by phone or email.
Wabi-Sabi and Japanese easthetics - 11/01/18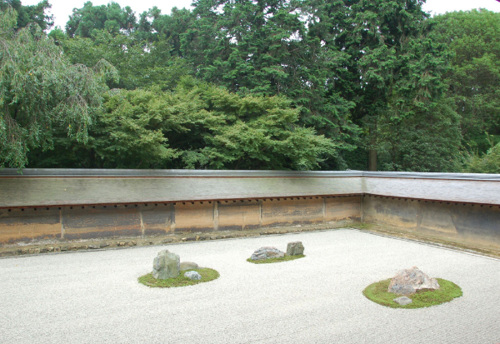 Japan is a special country with its own culture and its own taste and view on aesthetics. On various subjects, the way of thinking in Japan is almost opposite to Western thought patterns and ideals. Wabi-Sabi is a widely known term in Japan that can not be translated properly, but fits well with what we described above. Freely translated it means something like 'the beauty of imperfection and incompletion'. It has to do with a certain beauty in 'aging and in simplicity'. Wabi-Sabi is a combination of, again freely translated, 'rustic and rest' (Wabi) and 'beauty that comes with change with aging' (Sabi). Together this term represents an ideal of beauty which is very different from the Western ideal, but of which we can, for example by looking at the world-famous garden (on the photo) in Kyoto, understand that it possesses beauty.
Concrete as a base for nature - 24/11/17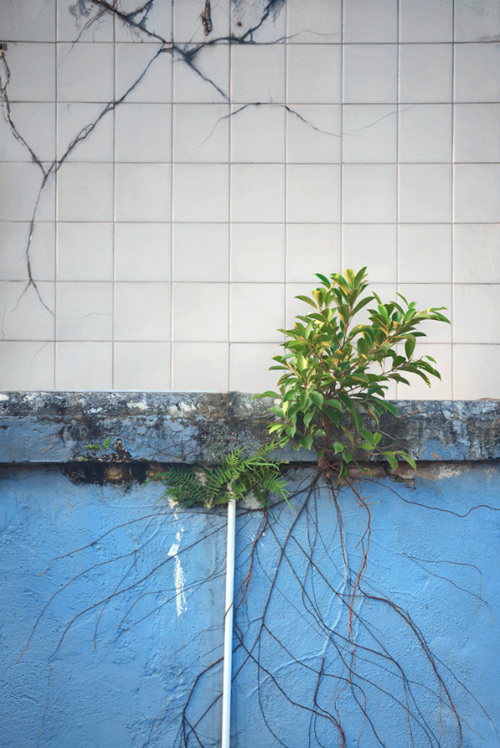 © Romain Jacquet- Lagrèze
Hong Kong is a city that has grown at a tremendous pace in terms of size and continues to grow at this pace. The green has made way for steel, glass and concrete. However, due to the warm and humid coast climate, nature doesn't need much to be able to re-establish itself.
Romain Jacquet-Lagrèze
made an
imaginative series of photographs
about buildings of which the concrete is slowly but surely serving as a breeding ground for the green. The concept, that this phenomenon is happening, is interesting and confronting at the same time. The images in themselves, without the theme or content, are very beautifully made.
There is a book (a.o. via Amazon)
(which, of course, we have in the office) for the real enthusiasts.
Industrial designer Raymond Loewy - 12/10/17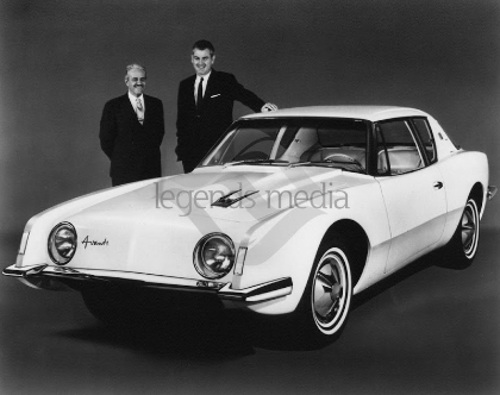 ©CMG Clearances
Raymond Loewy (1893-1986) was a gifted designer who didn't take the world around him for granted, by many he was the father of industrial design. A lamp, a car, in every object around him he saw ways for improvement or redesign. In his long career he designed many different objects, like a Coca-Cola vending machine, the Shell logo, a steam locomotive and the interior of Skylab for NASA. An impressive oversight of his career can be found on the
Wikipedia
page. This personal
interview
from 1979 with him give an insight in his way of thinking and is interesting to see for every designer.
Innovation on top of innovation: The self driving Tesla - 28/08/2017
© Tesla
Tesla
keeps amazing and keeps innovating. The self driving car in the short film shown above seems to come straight from a futuristic movie. Especially with the graphics on the right side showing the analysis made of objects in the surroundings. The cars Tesla sells right now are not fully autonomous because the technology is still developing based on tests and driving kilometres (fleet learning).
But, all Tesla's built since October 2016 do have the hardware which makes it possible to have a 360 degree view around the car, a big step towards full autonomy. Enjoy watching these impressive images. More information can be found
here (link)
. And if you scroll down through our blog, you'll see that we wrote about Tesla in 2013 to tell you about these pioneers, and now they are where they are. Fascinating.
Photographs of new project (inside and outside connecting extension) online- 07/07/17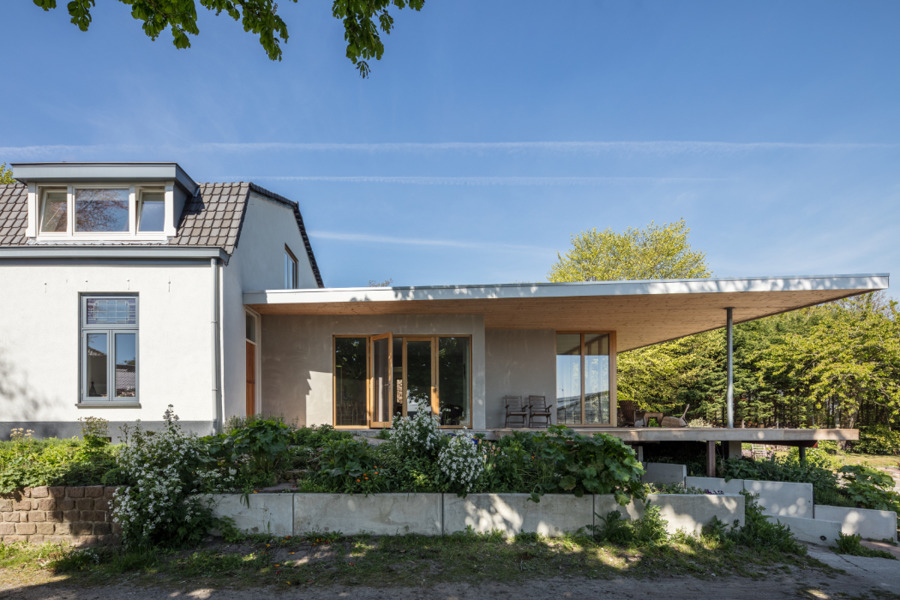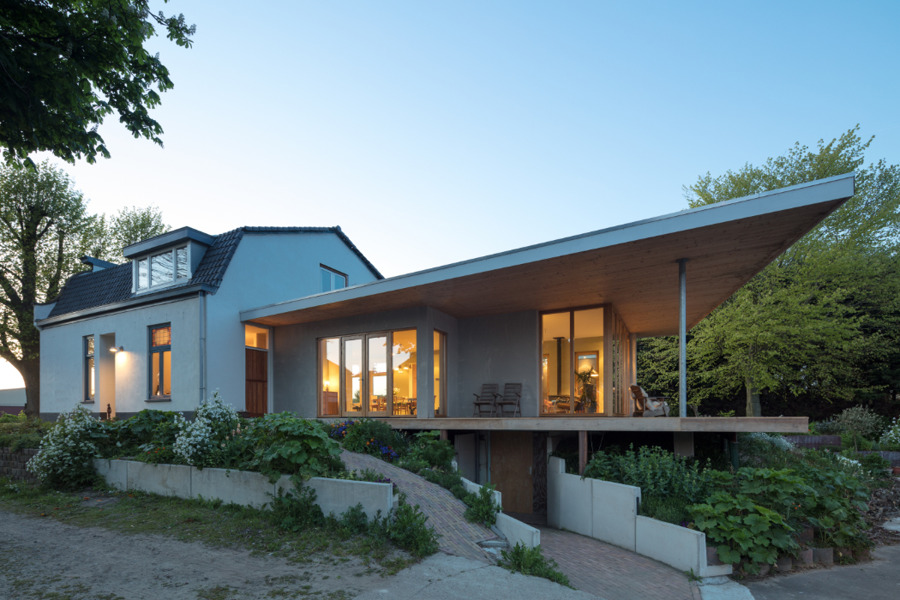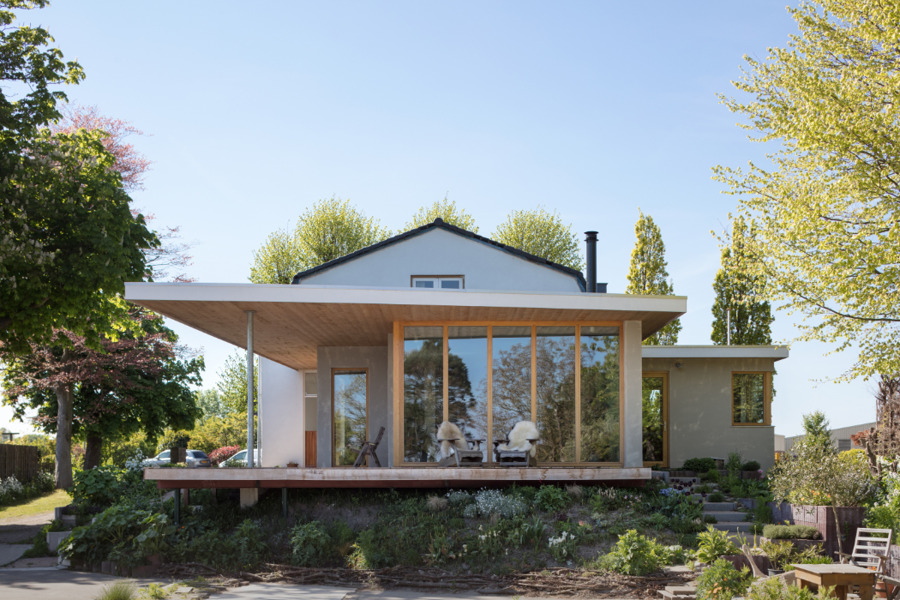 © photography Stijnstijl
For the extension of this house in the famous Dutch flowerbulb area, we made a design based on the experience of the transition from the inside to the outside. The old house (the inside) and the garden with the flowerbulb fields behind it (the outside) are beautifully connected by this distinctive and sharply detailed extension. More pictures and more information about this project can be found on
project page on our website (please click here)
.
Changes in the building process in the Netherlands: a new way of quality control - 25/05/17
The House of Representatives agreed, at the beginning of this year, to a new law which will have a significant impact on the way in which quality is guaranteed in the building process. Currently, this is done by the municipality. They check the drawings at the application for the building permission. However, this will change. From the 1st of January 2018, an external party will check the quality during and after construction. We particularly hope that this privatization will not lead to additional costs for the clients. We will keep an eye on developments and keep you posted.
What is the ideal height of the ceiling? (part 1) - 21/03/17

The height of the ceiling of the spaces we live in is a very important part of how we experience these spaces. It's good to add that the perception and appreciation of a space is closely related to materials and colors, to natural light and sight and to the other dimensions of the room. So, it is interesting to ask ourselves: Can we determine what an ideal ceiling height is independent of everything?
This is difficult, but fun and interesting to discuss. When we apply this question on the typical housing we know, starting from 50 to 60 square meter apartments to 180 to 200 square meters of houses we could ask ourselves: What if you can build such a house with the measurements you would currently build it with, but you can choose the ceiling heights themselves without thinking of money. What ceiling height would you choose?
It gets even more interesting if we include the following fact: In the Netherlands, there are requiregulations on the minimum ceiling height (something that certainly is not obvious in other countries). In the Building Regulations 1992, a minimum of 2.4 meters was demanded, since then it changed in 2003 to 2.6 meters, which still is the minimum by law. But the houses from the thirties, where the height from floor to ceiling is often 2.7 or 2.8 meters or even more, are currently very popular, partly because of these higher ceilings. Should the building regulations be changed so that we live with more height (equals quality?)? Or should we completely clear the requirements and let each person decide? Or...
Watch, enjoy and be amazed - 15/12/16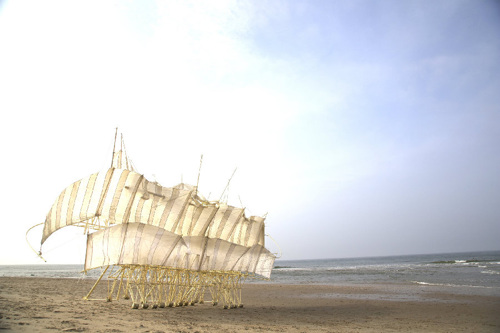 © Theo Jansen
The artist, inventor and scientist Theo Jansen creates fascinating "
beach animals (strandbeesten)
". Ingeniously designed skeletons that can propel and exist 'without food' and can 'walk on air' (in the words of Theo Jansen).
Take a look at the enchanting images, for more information please visit his
website strandbeest.com (link)
.
Daylight and tiles - 11/10/16
A time-lapse of the changing of materials, in this case floortiles, when influences by daylight and shading. Of course, this is just a small experiment, but it might be interesting to share it. It is part of our research into dayllight about which you can find more
here (link)
.
Take a look at this: Archined, an independent platform for architecture - 16/08/16

© Archined
The website
Archined
is an online platform which was founded 20 years ago, with the aim of spreading independent knowledge and to debate about the built environment. Of course this website contains various projects and amazing references, but in our eyes especially the articles written by other people active in the planning and/or architecture are enriching. If this subject interests you, this website is definitely worth it. An example of an fascinating article is
'The Prudential, Warschau' by Ton Verstegen
.
Article written by us in Architecture and Urbanism: 'Shrink must be fought ... Or shouldn't it? " - 06/28/16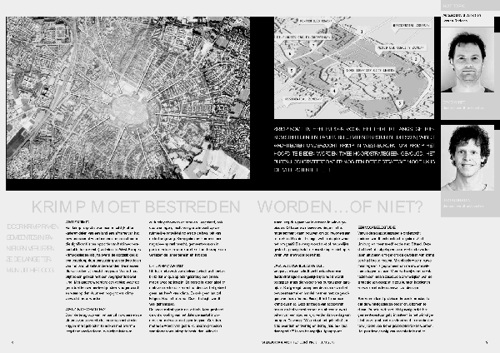 © Stedebouw & Architectuur
Our research on
shrinkage (read more here)
has led to a request to write an article for the magazine
Urbanism & Architecture (Stedebouw en Architectuur)
. Of course we wrote the article (in dutch), the result can be read
here (click to open PDF)
.
Artsy, a website to discover and watch art online - 04/05/16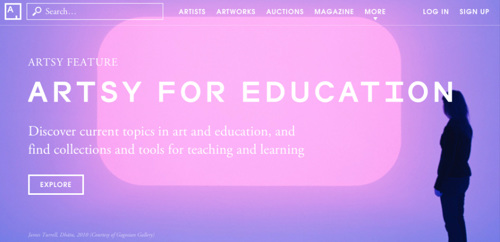 © Artsy
The website
Artsy
has a huge online database of art. For example you can find information about the artists themselves and take a look at their work. It is definitely worth it to take a look and is good to remember when you are looking for a certain work of an artist. Finally, it is also very interesting to just look around and discover new artists and art.
The light artist James Turrell, we mentioned earlier in our blog, can also be found
on this website (link)
. We wish you inspiration and enjoyment.
Design research into shrink areas in the Netherlands - 11/03/16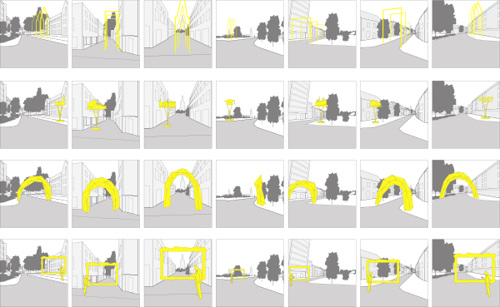 The Netherlands, but also parts of the rest of Europe, has a number of municipalities and regions that have to deal with declining populations and a changing compound of inhabitants. These municipalities and regions are also known as
shrinkage areas
. Young people move to the big cities and the population that is left in the villages is aging. Shrink causes unoccupied houses, offices and empty shopping areas, which has a major impact on the spatial development and the quality of life. Shrinkage is often contested by investing in these shopping areas and by building more high-end houses in order to attract new inhabitants.
Because of our interest in the built environment, we have investigated the causes and the possible strategies to solve the problem of shrink. "Acceptance" seems an unpopular, but good and sustainable solution. In this strategy a city, town or region is forced to think about his abilities and to emphasize these. This ensures that the quality of the environment increases for the current residents. With the result that the population fall will stop, and even an increase may be possible again. For example, reinforce the historic centre by improving access and identity and do not invest in the shopping area with the vacant shops. Tackle the problem at the base and prevent afterwards "stop-gap" solutions. Only in this way you can create a sustainable and stable future.
The full article you can read on our
research page
.
A wooden chair that grows into a chair by itself - 02/10/16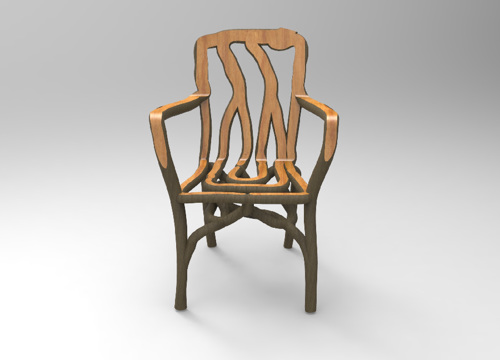 © Gavin Munro / Full Grown
The British designer
Gavin Munro
has developed an ingenious and original method, whereby the furniture grows by themselves into furniture. His vision is to go back to the base and make use of what the nature has to offer. However, the process is structured and controlled by a human being.
On the
website
you can read more about how these chairs form themselves during the process. Beside this interesting trial, the most interesting part for us may be the end product, which is also very beautiful. A lot of sustainable designs emphasises too much the sustainability of it. But in this case the accent is on the basic principle of the construction of the chair. Which is refined and provides interesting and beautiful furniture too.
On our project page: Design for new entrances for apartmentbuilding - 17/12/15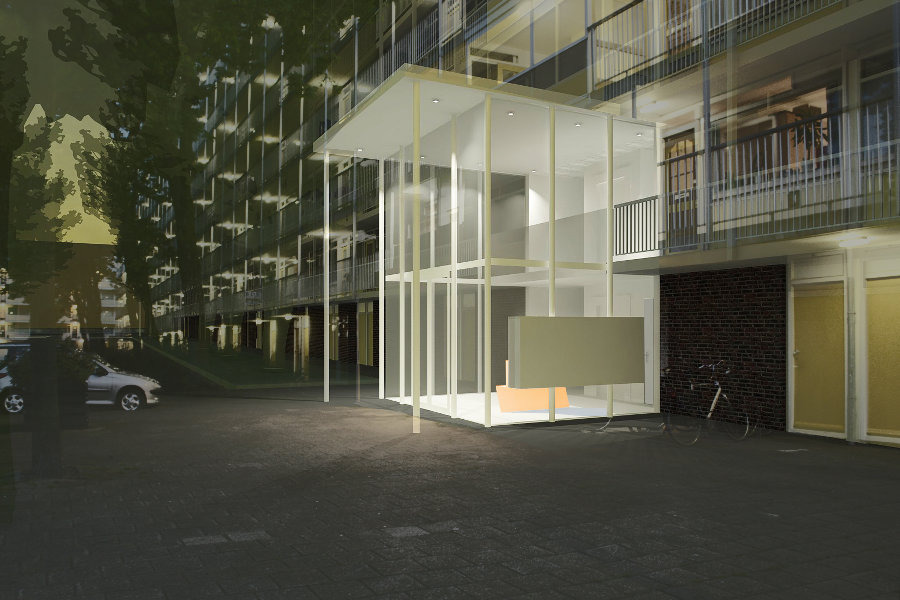 We had the opportunity to make a design for two new entrances, commissioned by a owners association of a appartment building. . The design is received very positive, it is not build (yet), but we thought it is worth sharing it.
"Client wanted" for printed wooden houses - 26/10/15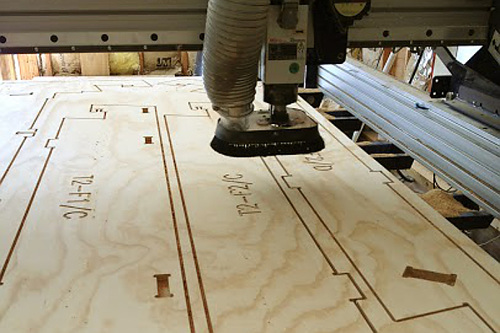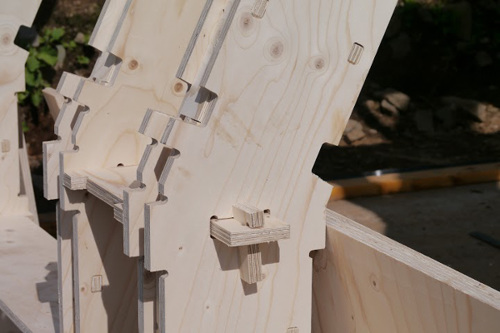 © Wikihouse
It really is possible to build a house by lasercutting wooden plates (printing) and then put them in place. In fact, the actual building only takes a few days. Obviously there must be a foundation and connections that are ready to use, but when you have that, the house is built within a week. How innovative is that?
This concept was conceived and developed by the people of
Wikihouse
, but the intention is to freely use, improve, develop and apply this concept. The possibilities are enormous: think about quickly rebuilding houses in disaster areas, building good houses in developing countries, but also building your own design, for example beautiful wooden pavilion-like houses.
We are very excited about this project, therefore this title with a nod. But to us it seems quite interesting and refreshing to work with you, according to the Wiki House system and design and build something. So, CLIENT WANTED for PRINTED WOODEN HOUSE (outside or garden)!
"A basic income for everybody", what is the idea exactly and is it of any interest? - 09/16/15
Being an architect we are very interested in what happens in society. Like we wrote in one of our previous news articles; gathering of people, the society in general and the experience of people in the built environment, has our highest attention. We do our best to design with this idea in our minds and to do research on behaviour and perception.
You may have heard that there is a lot of attention recently for the idea to set up a 'basic income'. This is a principle in which every inhabitant receives a certain income, without any condition, like unemployment or without contribution. This basic income you will always get, so you will always have a backup. An interesting fact is that decades ago this system has already been tested. You would expect that the whole population would stop working, but several tests showed that the opposite appeared to happen. People were more interested in their work, the omission dropped and the approach to work was more positive in general. Obviously some people will have advantage in this system, but the main question is: how many people do have advantage in our system nowadays? Would this amount of benefiting people be much less when you switch to another system? Is it necessary to rule from values or rule from enforcement? It is the world upside-down from what we are used to.
But, who will pay for this? At the moment enforcement and bureaucracy around our current system are an enormous expense for the government. If these costs can be removed, it will save billions. Now we have to pay taxes, and when you assume the same situation, it should be sufficient. In our system nowadays people who do not work get money, and people employed by the government earn money. If we had a basic income, you can/should/may want to fulfil social jobs. Jobs like working with the elderly, child care, care in general, education, youth guidance in sports are jobs that benefit no matter what.
Some countries want to test this system. Especially in Finland a majority approved to try this idea. Switzerland has to deal with some disagreement, but there are rumours that they are going to try the system as well. We keep this interesting thing in our minds. Because in our opinion the switch from 'receiving benefits when unemployed' to 'getting a base income and work', is worth keeping an eye on.
Role of the architect in the detailing - 7/14/15
De laatste jaren zijn wij bij diverse, en ook redelijk veel, van onze projecten betrokken geweest tot en met de uitwerking van het ontwerp. Al klinkt dat wellicht logisch voor u, blijkt de rol van de architect in het (de laatste 10 tot 20 jaar en misschien was dit al eerder ingezet) steeds meer terug te zijn gebracht tot alleen het Voorlopig Ontwerp, met andere woorden: de echte schets en ontwerp fase. Hoe dat is gebeurd? Er zijn meerdere deel-oorzaken te noemen, maar wat voor ons een belangrijke deel-oorzaak is; de architecten zelf vonden het prima om meer en meer puur ontwerper te zijn. Dit was voor 2008 ook nog eens gemakkelijk mogelijk met werk in overvloed. Maar ook in een situatie met voldoende werk voor iedereen, waren wij het daar toch niet mee eens.
Architectuur is meer dan alleen een schets en meer dan alleen ontwerp. Het is het realiseren van die schets, van dat ontwerp, van een idee. En wanneer je dat niet doet verlies je een uitwerkingsslag waar nog heel veel in ontworpen en gewonnen kan worden. Voor echt kleinere opgaven valt er regelmatig wat voor te zeggen om de schets te laten bouwen en uitvoeren door de aannemer. Doen wij ook wel eens. Maar wanneer het iets complexer en groter wordt (dat kan al zijn bij een goede uitbouw) is het detail zeer belangrijk.
Het uitwerken van de vele onderdelen van het plan verrijkt het plan vaak enorm. Ook kan er veelal winst geboekt worden door slimme detaillering, zowel financieel als qua functionaliteit (als qua uitstraling). Het detail is iets waar wij altijd een passie voor hebben gehad en zeker zullen blijven houden.
For inspiration: the German architectural magazine DETAIL - 08/06/15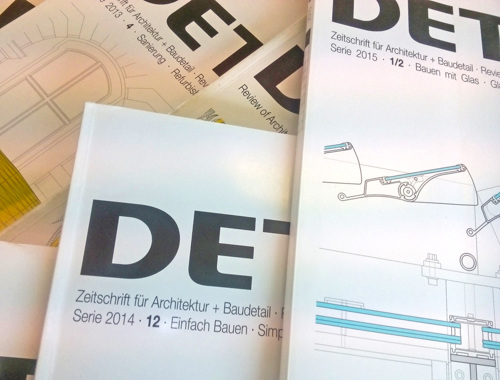 Er zijn diverse architectuur bladen en er blijven er ook redelijk veel bestaan. En dit ondanks dat het internet steeds belangrijker blijft worden. Het in handen hebben van fraaie referentie projecten met goede achtergrond informatie blijft waardevol. Het Duitse architectuur magazine DETAIL is zo een blad, en in onze ogen één van de beste bladen die er bestaat. Kijk voor inspiratie eens op
hun website (link)
. (Ze hebben uiteraard ook een blog en daarbij trouwens diverse echt goede architectuur boeken).
Realising designs - building - 21/04/15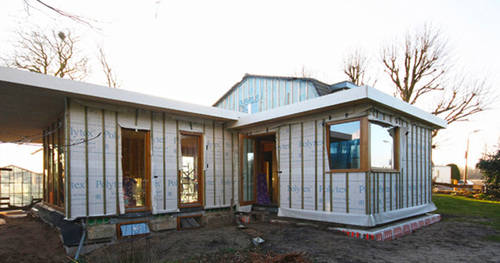 Bij ons bureau lopen er vaak diverse projecten die in verschillende stadia zijn. Er zijn projecten waar we het eerste ontwerp maken, bij andere projecten vragen we de omgevingsvergunning aan of loopt deze procedure, en weer andere projecten starten met de bouw. Dat laatste deel is toch het deel waarin een ontwerp echt gerealiseerd wordt en eigenlijk werkelijkheid wordt, voor zover het dit het nog niet is. Wanneer we een project dan ook fraai uitgevoerd tot realisatie zien komen is dat mooi. Momenteel is een periode waar (toevallig) meerdere projecten gebouwd worden. Bij deze stellen we u dan in het vooruitzicht dat u hier zeker meer van gaat zien en horen de komende maanden.
Impressive images of Detroit - 03/06/15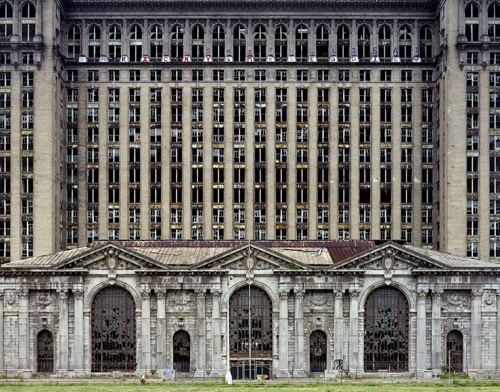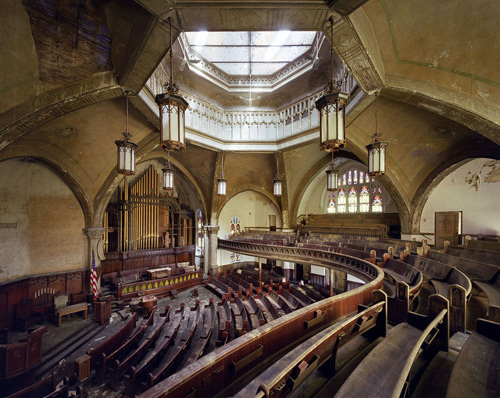 © Yves Marchand & Romain Meffre
De fotografen Yves Marchand en Romain Meffre hebben een fascinerende fotoserie gemaakt in Detroit. Wanneer je op
hun website kijkt (link)
raak je gefascineerd door de beelden. Wij brengen deze serie graag onder de aandacht. Het interessante er aan is dat Detroit een Amerikaanse droom was. De auto kwam op en zo ook Detroit. De stad werd in een bepaald deel enorm rijk. Vooral de leegstand van deze 'rijkdom' intrigeert. De tekst van de fotografen op hun website
marchandmeffre.com/detroit
vertelt dit verhaal.
Laminated wood as a construction material - 19/02/15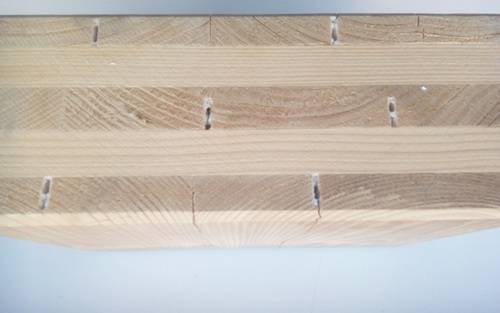 De ontwikkelingen in de bouw gaan al jaren langzaam maar zeker naar produceren in de fabriek wat kan. Vooral voor de constructieve delen van een gebouw is dit zeer interessant. Hiermee worden invloeden op de bouw van buitenaf (zoals het weer) minder invloedrijk en is het makkelijker zeer precies én snel te kunnen bouwen.
Wij hebben nu enkele projecten met gelamineerd hout als constructie materiaal gewerkt. Niet omdat we daar voorkeur voor hadden of hebben, maar omdat dit veel geld bleek te besparen voor de opdrachtgever en omdat het materiaal ons mogelijkheden gaf die wij zochten in het construeren van ons project. Slank, elegant en dus snel in de bouw.
Fascinating art with light and photography - 21/01/15
© Darren Pearson in samenwerking met Alex VI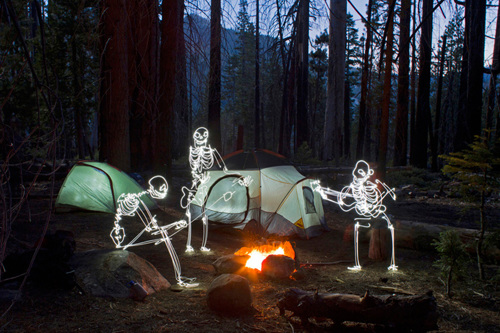 © Darren Pearson
Tijdens ons ontwerpen en onderzoeken komen we regelmatig inspirerende beelden, mensen en/of projecten tegen. Zo ook de het werk van licht kunstenaar
Darren Pearson
. We zagen een eerste beeld van hem, keken verder, en raakten gefascineerd door wat hij (soms in samenwerking) maakt.
Door met een lichtpunt 's nachts te 'tekenen' in de ruimte terwijl de foto camera opneemt kun je blijkbaar deze beelden creëren. De foto's zijn soms genomen met een 'exposure time' van wel 180 seconden. Bekijk zijn
blog hier
. Kijk ook zeker naar het filmpje opgebouwd uit meer dan duizend lichtkunst beelden.
Article published: Renovation of a house in the forest - 12/23/14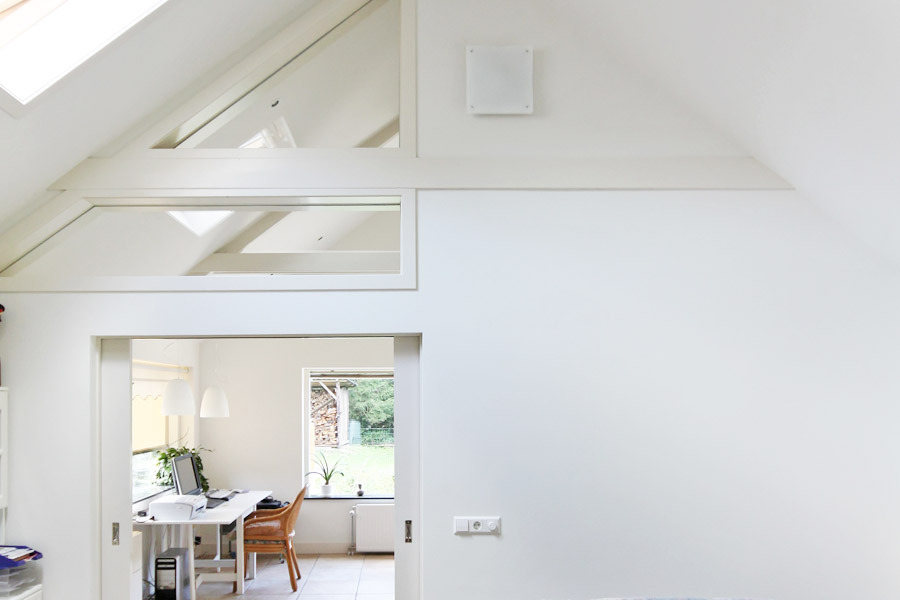 Met onze wens dat iedereen die ons volgt en onze berichten ziet fijne kerstdagen heeft, willen we een leuk bericht met u delen. Peter Visser schreef voor Architectuur NL een artikel met de titel
'Architect Onmisbaar'
. Wat interessant is aan het artikel is dat hij in gaat op verbouwingen van woningen en de rol die de architect hier in kan spelen. Zijn tekst hier is letterlijk: 'Het lijkt wel of er steeds meer particulieren overgaan tot een verbouwing van hun huis. Gelukkig wordt daar vaak een architect bij ingeschakeld, wat veelal prachtige resultaten oplevert. Er hangt natuurlijk een prijskaartje aan, maar als opdrachtgever heb je uiteindelijk misschien wel meer waar voor je geld. Als er een vertrouwensband tussen architect en opdrachtgever bestaat, dan vormt de architect een meerwaarde.'
Uiteraard sluiten wij ons hierbij aan, maar wij denken ook dat het belangrijk is dat men dit beseft. Peter Visser benaderde ons of hij
ons project huis in bos
als een voorbeeld mocht gebruiken om te laten zien wat die meerwaarde kan zijn. Dat is een mooi compliment.
We wensen u fijne dagen!
Renovation pumping station Delft on shortlist of the Abe Bonnema price - 12/05/14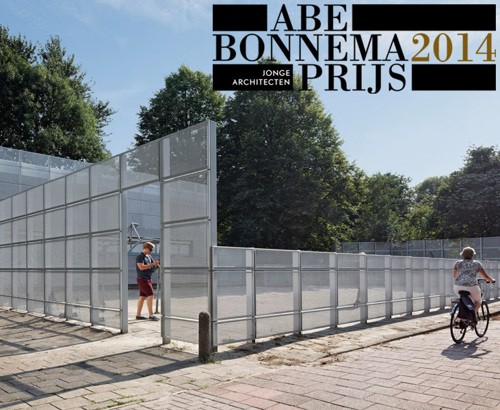 Ons ontwerp voor de renovatie van het pompgemaal in Delft was genomineerd om de
Abe Bonnema Prijs
2014 te winnen. Helaas hebben we niet gewonnen maar deze shortlist behalen was al zeker een eer. De officiële jury met bekende namen uit de architectuur wereld heeft het project bezocht, waar wij bij aanwezig waren, wat al aangaf dat dit een mooi avontuur was.
Wat hier bij mooi is, is dat afbeeldingen van ons ontwerp momenteel groot tentoon worden gesteld in het
Fries museum
.
James Turrell and Frank Lloyd Wright - 11/11/14
© Guggenheim
De visies van James Turrell en Frank Lloyd Wright zijn in de zomer van 2013 samengebracht in een expositie in het Guggenheim in New York door curatoren Carmen Gimenez en Nat Trotman. James Turrell is één van de grootste en in onze ogen beste lichtkunstenaars die er is. Wij hebben zelf exposities van hem kunnen bezoeken en het is echt bijzonder wat hij met onze emoties en gevoel weet te doen. En dat met de combinatie van gebouw en licht. Daarom is het zo interessant dat juist hij iets mocht doen met de wereldberoemde vide van het Guggenheim in New York, ontworpen door Frank Lloyd Wright. Een ruimte die zowel ruimtelijk als qua licht als qua ervaring van een tentoonstelling zeer vernieuwend en nog steeds zeer praktisch en fantastisch is. U vindt meer op
de site van het Guggenheim (link)
.
Fascinating photo collection by Michael Wolf - 20/10/14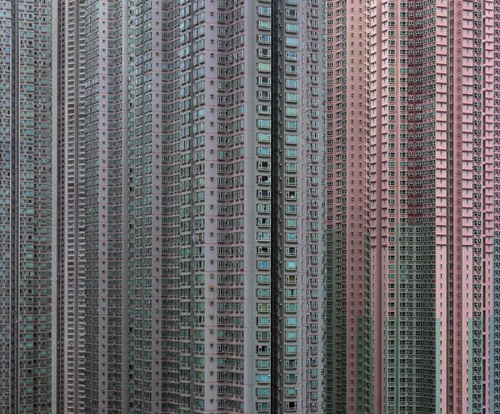 © Michael Wolf
Michael Wolf is een Duitse fotograaf die al vele jaren in Hong Kong woont. Hij is gefascineerd door de echte mega-stad en door de cultuur in deze steden. Het is absoluut de moeite waard
zijn website
te bezoeken en door zijn werk heen te gaan. Wij vinden vooral de serie 'Architecture of Density' fantastisch en fascinerend en misschien ook wel beangstigend. Deze serie kunt u
via deze link
op zijn site vinden. Het beeld is kunst op zich, maar er wonen echt mensen. Het is in ieder geval iets om over na te denken.
Interesting links - 09/25/14
Wij komen veel websites tegen waar wij zelf gebruik van maken of welke wij interessant vinden om te volgen. Dit verschilt van architectuurfora voor inspirerend design en boeiende referenties, tot praktische en informerende (overheid)websites. Op onze website delen wij een aantal van deze links met u op onze
contactenpagina (klikt u hier)
. Laat
het ons weten
als u nog goede tips heeft...
(News on) Dutch sustainable top-invention 'The Ocean Cleanup "- 07/10/14
© The Ocean Cleanup
De meeste mensen hebben al eens gehoord van het concept dat de Nederlandse 19-jarige Boyan Slat bedacht om de door plastic vervuilde oceanen schoon te krijgen. Dit was een visionair idee en klonk interessant, al waren er genoeg op en aanmerkingen te maken over het concept. Dat andere partijen, die ook al jaren bezig zijn met deze problematiek, zeer fel ten strijde trokken tegen dit concept is overigens wel opmerkelijk. Je zou denken: allemaal één doel, maar wellicht is bij veel mensen persoonlijke eer stiekem toch nog belangrijker dan het doel. Dit is mooi uiteengezet in
dit artikel van Vrij Nederland
.
Gelukkig liet Boyan Slat met zijn team het er niet bij zitten en hebben zij, tijdens een jaar van media stilte, een uitgebreid onderzoek verricht. Hiervan is het rapport op de site van
The Ocean Cleanup
te
downloaden (link)
. Hieruit bleek dat het wel degelijk haalbaar lijkt en van daaruit kan er nu door ontwikkeld worden. Via
crowdfunding
probeert het team nu 2 miljoen dollar op te halen om het project te kunnen vervolgen. Dit lijkt goed te gaan aangezien de teller nu bijna op 1,1 miljoen dollar staat. Mooi. Als Nederlanders mogen we trots zijn op dit concept en op het doorzettingsvermogen van het team en als architecten met een passie voor slimme oplossingen en duurzame concepten zijn wij fan van het initiatief.
Design of derksen | windt architects on shortlist for competition Aludesign facade – 11/06/14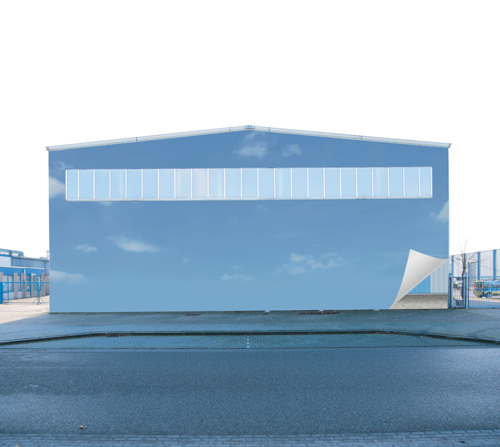 Wij zijn geselecteerd voor de shortlist bij een prijsvraag uitgeschreven door het bedrijf Euromax. De opgave was een ontwerp te maken voor de zijgevel van hun fabriekshal in Roermond. Er waren ongeveer 160 inzendingen (
zijn hier te vinden
) en deze zijn nu teruggebracht (
de geselecteerden (waaronder wij) staan hier
). We zijn nog geen winnaar, maar het is leuk om te melden!
De opgave was om de mogelijkheden van aluminium panelen met coating te tonen. Ons ontwerp toont de Nederlandse mooie lucht waarmee men zich al af gaat vragen of het nog wel een gevel met aluminium panelen is. Hoort het bij gebouw of bij omgeving? Daarnaast is de hoek terug gevouwen als een sticker om te zorgen dat de transformatie die mogelijk is, die van de standaard fabrieksgevel naar een spannende en interessante gevel, gezien wordt.
Importing files: surprising effects - 04/30/14
Het samenwerken tussen diverse programma's geeft soms wonderlijke effecten. Uiteraard kwam dit gewoon goed toen we de lijndiktes veranderde, maar het is toch wel een leuk beeld om te delen.
Brussels in the 50s and 60s: an interesting online exhibition - 03/18/14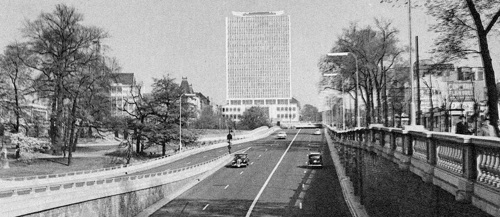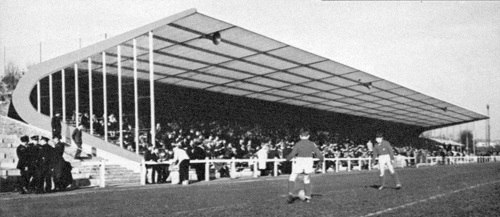 © Pierre Bernard
In de zomer van 2008 was er een
fysieke
tentoonstelling Brussel '50 '60 in Brussel. In 2009 is hier
een online tentoonstelling
van gemaakt, en toen wij deze tegenkwamen dachten wij: dit is de moeite waard om te delen.
Om u een goed idee te geven, deze tekst van de website zelf: 'De architectuur van de jaren 1950 en 1960 geniet een slechte reputatie in Brussel. Het stadscentrum viel toen ten prooi aan een ware bouwwoede: hele wijken werden gesloopt om plaats te maken voor grote, veelal zielloze gebouwen. In de rand drongen saaie nieuwe woonzones het platteland steeds verder terug.
Toch fonkelen tegen deze sombere achtergrond enkele bouwwerken die van een opmerkelijke originaliteit getuigen. In een sfeer van optimisme gingen architecten op zoek naar een vernieuwde moderne taal vol transparantie, poëzie en kleur.'
Geniet van en raak geïnspireerd door
deze online tentoonstelling (link)
.
Minister Blok continues stricter energy requirements for new build - 27/02/14
De minister voor wonen en rijksdienst Stef Blok heeft recent via
een brief aan de tweede kamer
laten weten dat de energetische nieuwbouweisen zoals eerder beloofd per 1 januari 2015 verscherpt zullen worden. Dit gebeurde als reactie op een motie van de Tweede Kamer leden Jansen en Monasch. Hiermee lijkt op het energetische vlak duurzaam nieuwbouwen definitief te gaan gebeuren. Want met de EPC verscherping van 0,6 naar 0,4 komt er voor het eerst een eis die bijna alleen te behalen valt met nieuwere duurzame technologie. Het dubbel glas en de HR ketel zullen hiermee, zeker wanneer men wat moois wil bouwen en voldoende glas wil toepassen, langzaam uit het nieuwbouw beeld gaan verdwijnen. Ook voor de utiliteitsbouw gaat gelden dat de prestaties 50% beter zullen moeten zijn dan in 2007. Een behoorlijke stap vooruit. Op naar energieneutraal.
Beautiful initiative: "Favela painting" by Dutch artists in Brazil - 30/01/14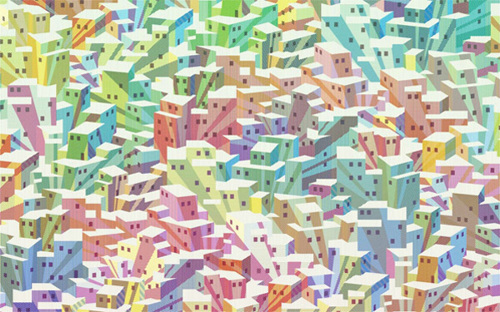 © Haas&Hahn for www.favelapainting.com
De Nederlandse kunstenaars Jeroen Koolhaas and Dre Urhahn besloten in 2005 dat het een goed idee was om Favela's in Rio de Janeiro te beschilderen. Ja inderdaad, de gebouwen zelf. Deels omdat dit mooi is, maar ook deels om contact te stimuleren met en binnen de wijken. Via hun website
favelapainting.com
kunt u het hele verhaal lezen.
Wat ons zo aanspreekt is dat het beeld heel goed werkt. Vanuit de grauwere omgeving die vooral bestaat uit grijs materiaal is het volledig getransformeerd naar een kleurrijke omgeving. En dat doet iets met mensen. Daarnaast is het interessant dat de Nederlandse kunstenaars de schilders echt uit die 'slechte' buurt halen en opleiden. Deze mannen zie je vervolgens echt trots zijn op hun werk. Win win.
Boeiend 'Canon van de Ruimtelijke Ordening' - 04/12/13
Het Ministerie van Infrastructuur en Milieu heeft een zeer interessante Canon opgesteld voor de Ruimtelijke Ordening in Nederland. Dit gaat van de nieuwe Hollandse waterlinie tot het stedenbouwkundig plan van Berlage in Amsterdam Zuid tot de veel recentere Randstadrail. De canon van de Ruimtelijke Ordening is een selectie die door vele partijen gezamenlijk gekozen is. Uiteraard zult u het net als wij het met sommige verkiezingen eens zijn en met sommige ook zeker niet, maar het is het bekijken zeker waard! U vindt het document
hier (klik)
.
Elektrisch rijden: Tesla doet het echt - 08/11/13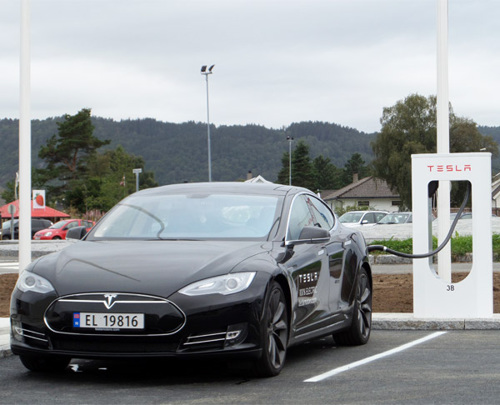 © Tesla
Even iets heel anders. Maar zeker interessant. Tesla Motors.
Tesla Motors
is een bedrijf wat mede door de innovatief denker Elon Musk groot en belangrijk begint te worden in de auto branche. Zij willen elektrisch rijden echt mogelijk maken. Dit is op een slimme manier ingezet. Eerst hebben zij een roadster auto ontwikkeld waarop ze heel veel dingen hebben kunnen proberen. Vervolgens heeft Tesla Motors sinds 2012 een 'echte' auto op de markt in het dure segment. Hiermee kunnen ze verder ontwikkelen alvorens de stap naar andere (ook goedkopere) modellen auto's te maken. 'Model S en X' zijn naast elektrische ook nog eens mooie auto's trouwens.
Maar het probleem bij elektrisch rijden is het bereik en de mogelijkheden om op te laden. Tesla heeft het mogelijk gemaakt om tot 500 km te rijden zonder op te laden, en dat is echt veel. Dat is qua afstand zonder laden (ruim) voldoende voor vele potentiele autobezitters. En minimaal net zo interessant: Wereldwijd zijn zij
superchargers
aan het neerzetten. In Noorwegen is dit begonnen, In Noord Amerika en Canada zijn er nu ook velen en eind 2014 willen ze bijna heel West-Europa voorzien hebben. Zo kun je (tijdens een lunch) binnen 20 minuten je auto half opladen. Momenteel zelfs gratis.
Uiteraard moet de energie wel opgewekt worden, dus het is niet dat er geen energie nodig is. Maar nu de energie ergens anders op grote schaal gewonnen kan worden en niet verbrand hoeft te worden in de auto zelf, kan dit bijvoorbeeld door wind- en zonne-energie.
We lijken wel een reclame bureau, maar wat wij vooral zo interessant vinden: Zij hebben het gedaan. Gewoon, tegen alle benzine en diesel verbruikende gigantische en machtige fabrikanten in. Inspirerend.
Florentijn Hofman zet ons met zijn kunst aan het denken - 07/10/13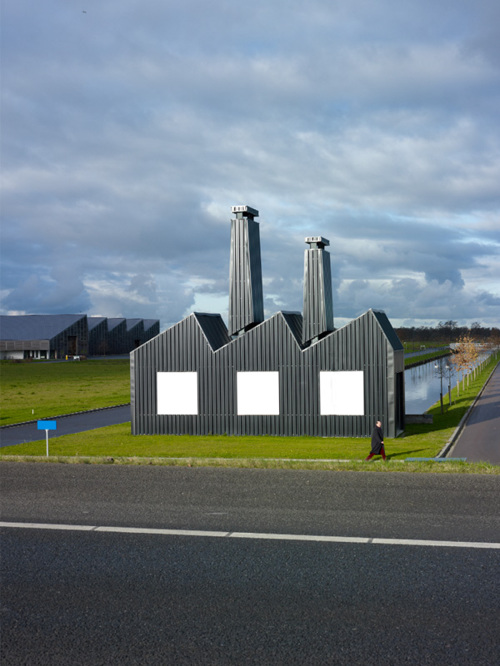 © Jeroen Musch / Florentijn Hofman
Florentijn Hofman is bij het grote publiek onder andere bekend van de enorme gele badeend die op verschillende plaatsen in de wereld te zien is (geweest). Maar uiteraard maakt hij veel meer. Vaak zoekt hij de confrontatie met de voorbijganger en het publiek. De mensen worden aan het denken gezet, worden op een (positieve) manier verbaasd, kunnen erom lachen of juist niet, maar er gebeurt iets. In onze ogen is dat zo interessant aan zijn werk.
Zo is het ook met het uit 2012 daterende werk 'Little Factory'. Het is bijna een letterlijke vergroting van het icoontje waarmee je een fabriek zou aangeven. Het doet je onbewust nadenken over het uiterlijk van dat soort gebouwen. Wij vinden het werk van Florentijn Hofman in ieder geval zeer interessant. U vindt meer werk op
zijn website
.
Grote en mooie uitdaging in verbouwingen en renovaties - 19/08/13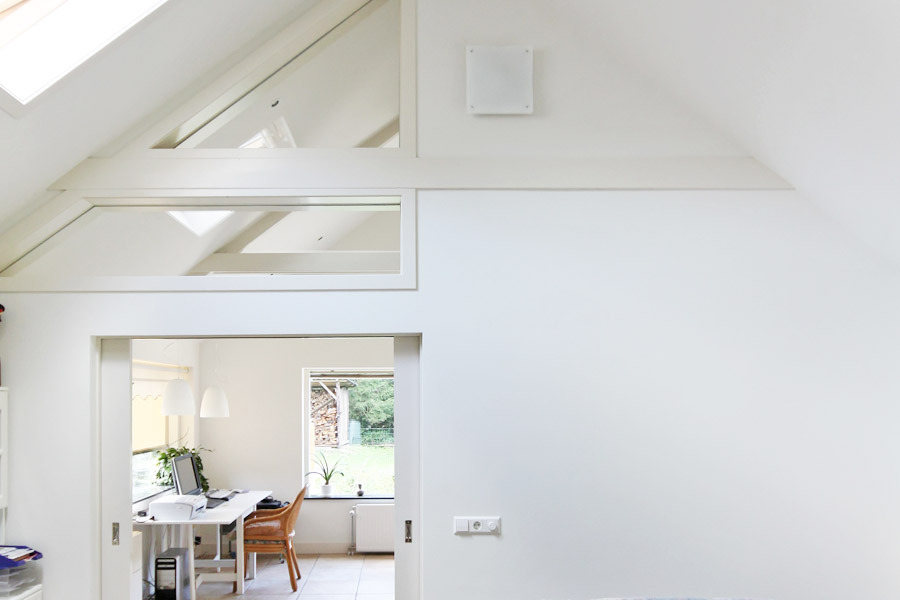 Ook wij merken dat er veel vraag is naar ontwerpen voor verbouwingen en renovaties. Het is de interessante en leuke kant van de negatieve situatie op de woningmarkt. Recent hebben we een verbouwing opgeleverd van een zeer gedateerd huisje wat mooi in de bossen gelegen is. Door het interieur grondig aan te pakken en de mooie kapconstructie in het zicht te brengen is het nu een lichte, plezierige en frisse woning. Het project is
hier (klik voor link)
op de projectenpagina te vinden.
Ondergronds ruimtegebruik en derksen|windt architecten - 17/06/13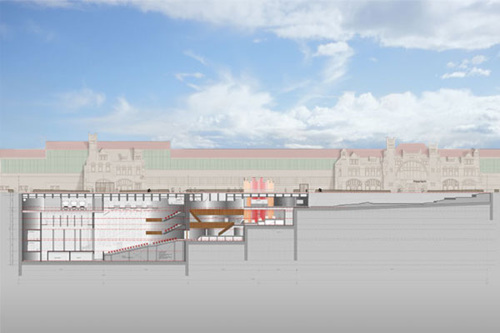 Ondergronds ruimtegebruik blijft in onze ogen een boeiend onderwerp waar veel potentie in zit. In 2008 hebben wij de Schreudersstudie prijs ontvangen voor ons ontwerp voor een ondergronds theater waarbij wij uit waren gegaan van de ervaring van de bezoeker die ondergronds moet gaan. Het ontwerpend onderzoek wat wij destijds hebben gedaan gaan we verder uitbreiden en nieuw leven inblazen. Ondanks dat het druk is met diverse lopende projecten vinden wij dat hier zo veel mogelijkheden zijn en zo een goede basis ligt dat we dit willen doen. We houden u onder andere hier op de hoogte van de ontwikkelingen.
De 6 procent btw regeling voor architect werkzaamheden - 23/05/13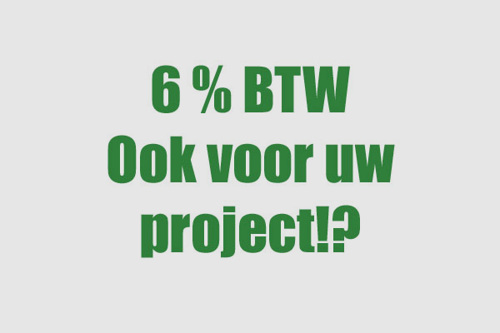 Sinds enkele maanden geldt er een btw korting over arbeidsuren wanneer u renovatie en herstel werkzaamheden laat ontwerpen en/of uitvoeren aan uw woning. Ook de architecten werkzaamheden vallen onder deze 6% btw regeling. Dit is een groot voordeel voor particulieren aangezien ze hiermee (ten opzichte van de 21%) behoorlijk kunnen besparen. Echter zijn er een aantal belangrijke voorwaarden gesteld die wij u duidelijk en eerlijk willen tonen. Zo weet u gelijk of u in aanmerking komt voor de btw korting.
De drie voorwaarden zijn dat u de woning langer dan twee jaar geleden in gebruik moet hebben genomen, dat de werkzaamheden worden afgerond voor 1 maart 2014 en dat wij de renovatie of het herstel als architect begeleiden. In dat geval mag de hele opdracht wat betreft onze arbeidskosten tegen 6% worden gerekend.
Nou is er behoorlijk wat onduidelijkheid over de laatste van de drie voorwaarden: de begeleiding van het project. Hier een korte uitleg: Dit begeleiden houdt in dat de wij als architect, naast het normale ontwerp en tekenwerk, ook de begeleidende werkzaamheden als het coördineren van de aanbesteding bij verschillende aannemers, het begeleiden bij de prijs- en contractvorming, de controlevoering op de uitvoering en de algemene directievoering en oplevering van de renovatie doen.
Inde praktijk hebben deze laatste werkzaamheden vaak een winst voor de opdrachtgever opgeleverd aangezien de kans op meerkosten en dergelijken aanzienlijk afneemt wanneer het proces en de verbouwing goed worden begeleid. Meer informatie vindt u bij de
BNA hier
.
Meubelen van Republic of Fritz Hansen in Kopenhagen - 27/03/13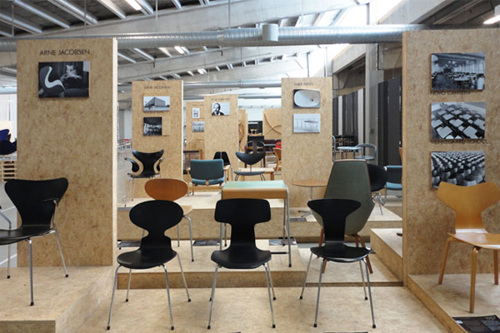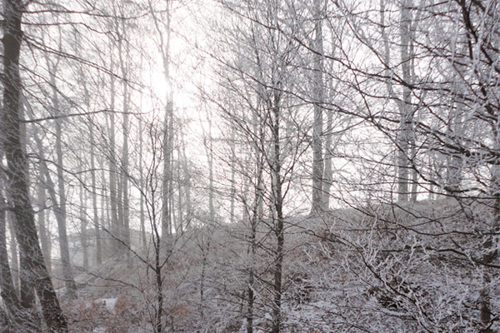 In Kopenhagen Denemarken, waar we als derksen|windt architecten twee dagen waren, hebben we een bezoek gebracht aan de fabriek en het hoofdkantoor van Republic of Fritz Hansen. De fabriek hebben wij eerder in een nieuwsbericht getoond op 4 oktober 2012. In dat bericht toonden wij een filmpje van hoe de stoel 'Series 7' gemaakt wordt. Nu hebben we dit met eigen ogen gezien, iets wat zeker de moeite waard is. Daarnaast is Kopenhagen een mooie stad en vooral het landschap rond Kopenhagen was prachtig. Aan de kust zorgde een lichte mist gecombineerd met bevroren rijp aan de bomen voor filmachtige beelden.
derksen|windt architecten feliciteert Cafetaria van Ruyven met ondernemersprijs - 11/01/13
De familie van Ruyven heeft met hun Cafetaria de ondernemersprijs van de Ondernemers Federatie Maassluis (OFM) gewonnen. Uit zeer veel potentiele kans hebbende ondernemers wisten zij de winnaar te worden. Hiermee krijgen ze waardering voor hun ondernemersgeest, durf en uitstraling die verder gaan dan een 'gewoon' cafetaria. Hun nieuwe pand aan de Industrieweg dat afgelopen jaar is opgeleverd hebben wij mogen ontwerpen waarmee we hopen dat we wellicht een steentje hebben kunnen bijgedragen aan de verkiezing van Cafetaria van Ruyven tot ondernemer van het jaar. Vanaf onze kant: gefeliciteerd!
Kaart Cafetaria van Ruyven - 18/10/12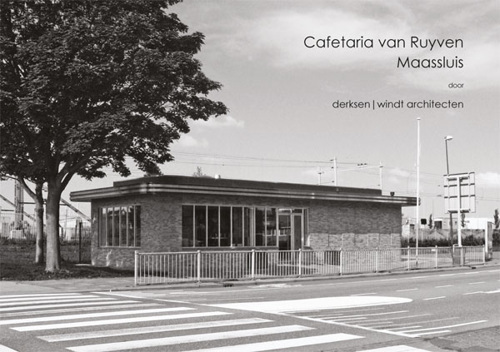 Afgelopen week hebben we een kaart verzonden van het door ons ontworpen
Cafetaria van Ruyven
. Deze mooie kaart wilden we als foto ook op onze website tonen, bij deze. Mocht u de kaart ook thuis of op uw werk willen ontvangen kunt u uiteraard contact met ons opnemen.
Mooi stedenbouwkundig plan in Madrid - 17/09/12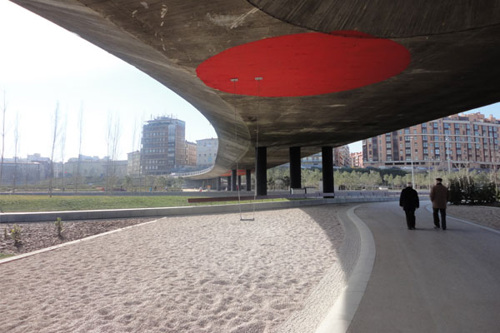 Het gerenommeerde Nederlandse bureau voor landschapsarchitectuur
West 8
heeft samen met drie Madrileense bureaus een groot stedenbouwkundig project ontworpen en gerealiseerd in Zuidelijk Madrid. Door een bezoek eerder dit jaar aan Madrid hebben wij kunnen zien dat dit veel gebruikte gebied origineel en op mooie wijze is ingericht. En belangrijk: het werkt. Uiteraard is het de moeite waard er te gaan kijken wanneer u in Madrid bent, maar ook een bezoek aan
de website van West 8
geeft een goed beeld van dit, in onze ogen, zeer geslaagde project.
Quote Friedrich Gilly - 27/07/12
'Architectuur is de materialisatie van hogere idealen'
Friedrich Gilly was een Duitse architect die actief was aan het einde van de 18e eeuw.
(kleuren) Foto's veranderen blik op de jaren 50 - 08/26/12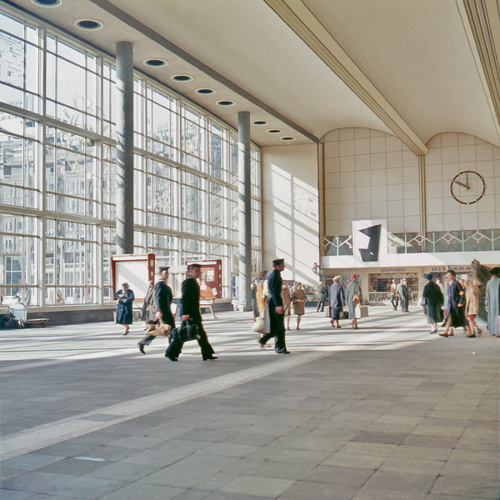 © W Books
Het beeld van de jaren 50 is, logischerwijs, voor velen een beeld in zwart wit. Een grauwig en saai beeld. Dit komt mede doordat de foto's uit die tijd bijna altijd in zwart wit werden gepubliceerd. Deze foto's zijn destijds echter wel in kleur geschoten, maar de kranten en bladen konden dit niet in kleur uitgeven. Maar nu komt er een nieuwe blik op die tijd.
René Kok, Erik Somers en Paul Brood vormen de redactie van
'Het grote jaren 50 boek'
waarin op 380 pagina's prachtige, voor die tijd zo typerende foto's zijn verzameld. En daarbij deels afgedrukt in kleur. Een echte aanrader en een hele mooie nieuwe blik op de grijze jaren 50. (De liefhebber kan het
hier via W books
bestellen)
ABC architectuurcentrum publiceert onze villa - 27/04/12
De villa aan het Spaarne blijft de media halen. Na meerdere publicaties in diverse media heeft ook het ABC Architectuurcentrum te Haarlem besloten het project op
hun website
te publiceren. De publicatie is
hier
te vinden.
Website - 13/04/12
De website van derksen|windt architecten heeft een behoorlijke update gekregen. Dit was (behalve dat de website nu nog mooier is dan voorheen) vooral omdat wij het belangrijk vinden u onze projecten goed te kunnen laten zien en onze visie goed over te kunnen brengen. Wij denken dat onze website daarbij ook nog meer uitstraalt wat derksen|windt architecten wil uitstralen.
Nieuwe foto's villa in het groen - 09/02/12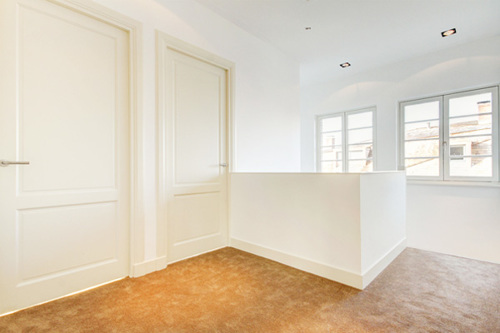 De door derksen|windt architecten ontworpen 'Villa in het groen' stond al onder
projecten
op de site, hier zijn nu nieuwe foto's en toelichting aan toegevoegd. 'Onze particuliere opdrachtgever wilde voor zijn woning een traditioneel beeld realiseren waarbij de stedenbouwkundige eisen vroegen om een compacte villa met schuin dak. Deze wensen hebben wij vertaald naar een ontwerp wat vanuit die traditionele wens zeker zijn architectonische...'
lees meer...
'oud Neerlandsche' films - 16/01/12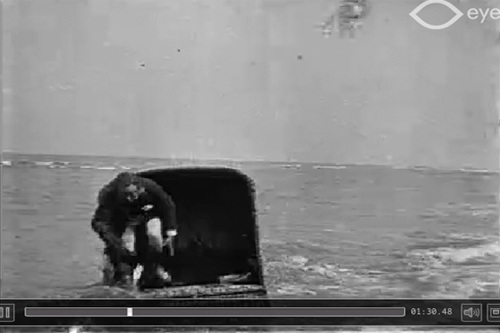 © www.filminnederland.nl
De Nederlandse film is nog steeds erg populair en misschien wel meer populair dan ooit tevoren (bewijzen kijkcijfer hits als 'komt een vrouw bij de dokter' en 'nova zembla').
De Nederlandse film heeft een enorme geschiedenis die misschien wel gestart is op 12 maart 1896 met de eerste openbare voorstelling in de Kalverstraat in Amsterdam. Deze beelden zijn nu deels online te bekijken. Zo ook een leuke korte film zonder geluid die wel heel duidelijk maakt dat we tegenwoordig in andere, snellere tijden leven. Het onderwerp: een man op het strand die zijn pantalon niet aanheeft. Mooi om te zien. In onze ogen is de site
www.filminnederland.nl
zeker een bezoekje waard.
start bouw cafetaria van Ruyven - 12/12/11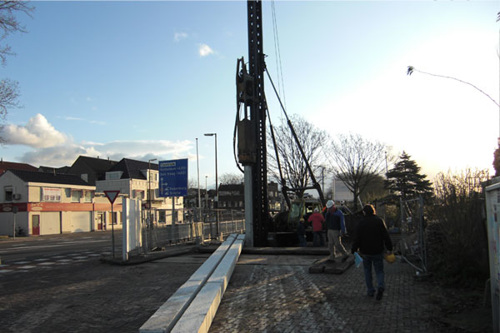 Met het slaan van de eerste funderingspaal is de bouw van het nieuwe cafetaria van Ruyven aan de Industrieweg in Maassluis gestart. Het oude cafetaria, dat ooit gebouwd was als tijdelijk onderkomen, is gesloopt. Het nieuwe cafetaria dat ontworpen is door derksen|windt architecten zal een mooi gebouw worden en zal zoals de welstand zegt 'een aanwinsts voor het stadsgezicht van Maassluis' zijn. Meer informatie
hier
.
duurzaamheid, duurzaam zijn, duurzame toekomst? - 24/06/11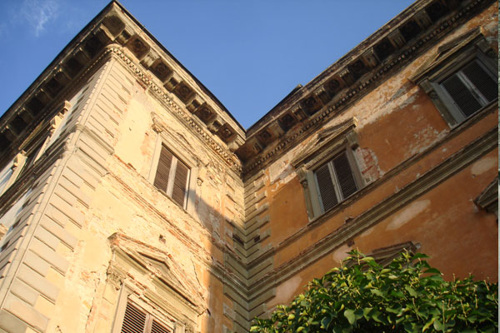 Moet duurzaam een uitgangspunt zijn in de architectuur? \
derksen|windt architecten vindt dat duurzaamheid van het gebouwde een vast onderdeel is voor iedere ontwerpopgave, het mag echter niet doorslaan naar gebouwen die alleen duurzaamheid uitstralen en niet mooi, gebruiksvriendelijk of zelfs niet duurzaam zijn doordat ze na enkele jaren leegstand gesloopt worden. Wij zoeken naar een tijdloze ontwerp.
start bouw villa in het groen - 15/03/11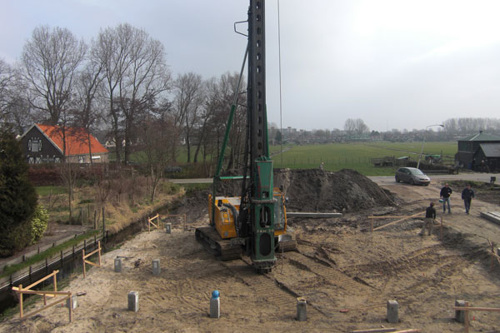 Vanmorgen is met het slaan van de eerste funderingspaal de bouw van de villa in het groen begonnen. De komende tijd zullen we foto's over de bouwvoortgang laten zien en uiteindelijk zal het project onder de
projecten
pagina te vinden zijn.
Deze villa
is in een traditionele stijl ontworpen naar wens van de opdrachtgever, met daarbij vanuit ons veel aandacht voor mooie detaillering en een fraai en hoogwaardig interieur.
2011 - 05/01/11
derksen|windt architecten wenst u een goed en mooi nieuw jaar. Een jaar waarin de architectuurwereld wat ons betreft mooie ontwerpen gaat leveren; ontwerpen die dicht bij de gebruiker staan, ontwerpen waarin gedacht is aan duurzaamheid waar mogelijk en ontwerpen die bovenal mooi zijn. 2011 is een nieuw jaar waarin veel te gebeuren staat, neem nou de mooie zonsverduistering van 4 januari jongst leden, dat is toch een verrassing zo aan het begin van het jaar. Wij hopen op een 2011 met een aantal goede verrassingen voor u en ons in het verschiet.
eerste paal villa spaarne oever - 29/10/10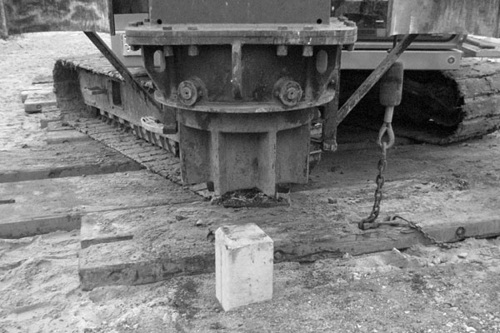 Voor het project Villa Spraane Oever is op 29 oktober de eerste paal geslagen. De komende tijd zullen er meerdere foto's komen van de bouwvoortgang en uiteindelijk zal het project onder de
projecten
pagina te vinden zijn. Voor
deze villa
is een eigentijds ontwerp gemaakt wat veel respect heeft voor de prachtige omgeving en zeker ook voor de wensen van de opdrachtgever.
Het belooft een echte toevoeging aan de omgeving te worden.
Nieuwsbrief mei 2010 - 10/05/10
derksen|windt architecten blijft actief haar visie verspreiden. Dit doen wij mede door vanuit onze visie na te denken over maatschappelijke vraagstukken. In onze nieuwe nieuwsbrief laten we twee voorbeelden van onderwerpen zien die wij interessant vinden en die uiteindelijk de architectuur aangaan. U kunt uzelf
aanmelden voor de nieuwsbrief
.
publicatie booosting - 16/01/10
booosting, het platform voor koplopers in bouwinnovatie, heeft ons winnende ontwerp voor het stationsplein en ondergronds theater te Haarlem gepubliceerd.
dag van de architectuur - 19/06/09
Op de dag van de architectuur (27-06-09) zal derksen|windt architecten in een lezing haar visie op het stationsplein geven. De lezing vindt plaats in de stationsrestauratie van het mooie station van Haarlem.
derksen|windt architecten en praktijkvereniging BouT - 18/03/09
jeroen derksen en david windt hebben twee jaar lang de praktijkvereniging BouT bestuurd en nieuw leven in geblazen. Het opvolgende bestuur is nu weer volop actief.
haarlems dagblad - 01/10/08
Het door derksen|windt architecten ontworpen stationsplein en ondergronds theater in Haarlem is gepubliceerd in het Haarlems Dagblad op 1 oktober 2008.
derksen|windt architecten op Indesem - 06/05/09
Indesem is een twee jaarlijkse ontwerpseminar. De 2009 editie staat in het teken van de kennis, de werkwijze en de vaardigheid van de hedendaagse architect en het belang van de architecten. Daarbij, of daardoor, wordt er aandacht geschonken aan de ervaring van de gebruiker en de rol die de gebruiker heeft in het ontwerpproces. derksen|windt architecten geeft hier een lezing en heeft een bijdrage als 'visiting critic', waarbij wij diverse ontwerpgroepen eenmalig begeleiden.
winst schreuders prijs - 29/01/09
derksen|windt architecten wint de Schreudersstudieprijs! De jury; 'een inspiratiebron voor ondergronds bouwen' en was 'zeer te spreken over de uitstraling en architectuur van het theater'.